Prom Night
(1980)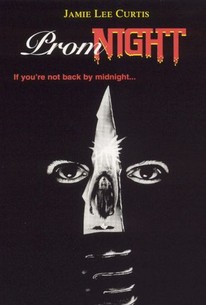 Movie Info
A conventional horror film with several jolting moments, Prom Night features Jamie Lee Curtis in one of her last "scream queen" roles before she branched out from the genre. Curtis was one of four children who terrifyingly forced a ten-year-old girl to fall out of a window to her death. Six years later, the four are at their high-school prom when an unknown killer starts to take revenge for the murder they committed. As each of the four is gruesomely dispatched, suspense mounts over whether the killer will be caught before all the teens are axed into oblivion.
People Who Like this movie also like
News & Interviews for Prom Night
Critic Reviews for Prom Night
Audience Reviews for Prom Night
½
A messy mix of Carrie, Saturday Night Fever and Halloween that takes too long to get where it is going (being even interrupted by a laughably intrusive disco dance scene), and so by the time things start to happen, there is very little tension left, even though I do like the ending.
Carlos Magalhães
Super Reviewer
With the slasher boom exploding in the early 80's after John Carpenter's Halloween became a success in 1978 upon its release, every studio got the craze to rip it off and create their own slasher films. But the slasher films of the 80's had something that Halloween lacked, excessive violence (I'm not complaining, I'm just stating the obvious).Prom Night is one of the first slashers to rip off Halloween to cash in on it's success. Staring Jamie Lee Curtis, this Slasher film from Canada is a pretty good entry in the genre, more credit should be given to this film as its not as bad as people claim it to be. Sure theres room enough for improvement, but this is still a pretty entertaining horror film. However with the strong succession of slasher films that followed like Friday The 13th, Nightmare On Elm Street, My Bloody Valentine and Terror Train; it's easy to forget Prom Night. If you put this film alongside the most solid slasher films that I've just mentioned, Prom Night may seem kind of weak. At times it does feel that way, but its far from the worst. I loved the film along with it's sequel, Hello Mary Lou: Prom Night II. But I hated the last two entries of the franchise. This film follows the usual slasher film formula, a killer stalks and kills teens responsible for the deaths of a girl. But setting of the kills is not a nightmare or a campground or a mine. It's a high school prom. The film is enjoyable but flawed. Prom Night is still a fun film to pull out from time to time to rewatch, but it's one of the weaker slasher films of the 80's. Like I've said, the best Prom Night film is the second one. But this film is still worth watching to kill an hour and a half and enjoy something nostalgic from early 80's slashers.
On okay horror movie, it's kind of predictable, but it has some good suspenseful scenes too. I'm not a big fan of Curtis, but she's okay. The story is pretty good, but it could be better.
Prom Night Quotes
| | |
| --- | --- |
| Alex: | "Kiss the King?" |
| Alex: | Kiss the king? |
| | |
| --- | --- |
| Drew: | "Miss fairy tale princess." |
| Drew: | Miss fairy tale princess. |
| | |
| --- | --- |
| Alex: | "I saw it. I saw it all. They killed her. They killed her. Robin!" |
| Alex: | I saw it. I saw it all. They killed her. They killed her. Robin! |
| | |
| --- | --- |
| Kim: | "It's better than kissing an ashtray." |
| Kim: | It's better than kissing an ashtray. |
| Kim: | "Go sit on it, ape." |
| Kim: | Go sit on it, ape. |