Sabotage
(1937)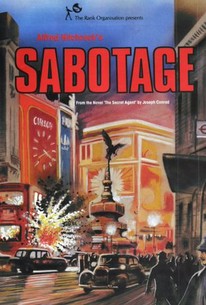 Movie Info
In this film, Oskar Homolka plays a London movie-theatre owner who maintains a secret life as a paid terrorist. Homolka's wife Sylvia Sidney doesn't suspect Homolka of any wrongdoing, but she's picked up enough secondhand information about her husband's activities to arouse the interest of government agent John Loder.
Critic Reviews for Sabotage
Audience Reviews for Sabotage
½
Hitchcock knows how to combine an espionage plot with humor, and this film can also be very tense (especially in a key scene of a boy carrying a package throughout the city and on a bus), even if it is not always so effective and suffers a bit from some weak narrative choices.
Carlos Magalhães
Super Reviewer
½
For some reason, this seems to be one early Hitchcock film that is either underrated or overlooked period. That's a real shame in both instances, because this is one that is really quite something, and deserves a lot more attention and respect. A sleeper agent terrorist sets off a bomb in London on a bus. His wife is rather unsuspecting of him secretly being a bad person, but she's heard just enough info about him to arouse the suspicions of her neighbor, and undercover Scotland Yard agent. From there, it becomes a race to prevent any more attacks, complicated by a set of circumstances that are extremely suspenseful and thrilling, and just a joy to watch. Some of this actually sounds like contemporary events, despite coming from a film from 1937 that's based on written material from maybe earlier than that. Sylvia Sidney gives a terrific performance as the wife, and the set pieces, most notably a very tense sequence involving a bomb and when it might go off just really sing and make this an oldie that is extremely worth checking out.
Chris Weber
Super Reviewer
Not one of Hitchcock's best, but still an entertaining and thrilling ride. I recommend this to any Hitchcock fan. It has a lot the same elements that make his later films unforgettable, only this film doesn't capitalize on them.
Jameson Worley
Super Reviewer
Sabotage Quotes
There are no approved quotes yet for this movie.