Silent Night, Deadly Night
(1984)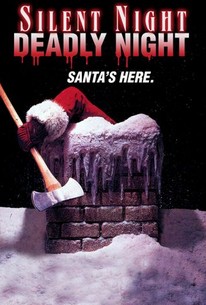 Silent Night, Deadly Night Photos
Movie Info
Fangoria Presents unwraps Charles E Sallier Jr.'s 1984 holiday cult horror classic SILENT NIGHT, DEADLY NIGHT, in theaters this December! SILENT NIGHT, DEADLY NIGHT tells the tale of Billy Chapmen, orphaned at five after witnessing the murder of his parents at the hands of a Santa suit-clad madman on Christmas Eve. Now eighteen and out of the brutal grip of orphanage nuns, Billy is forced to confront his greatest fear, sending him on a rampage, leaving a crimson trail in the snow behind him. Fangoria Presents, in conjunction with Screenvision, delivers this seasonal slasher essential in a stunning new HD transfer for the ultimate experience in ho-ho-horror!
News & Interviews for Silent Night, Deadly Night
Critic Reviews for Silent Night, Deadly Night
Audience Reviews for Silent Night, Deadly Night
[img]http://images.rottentomatoes.com/images/user/icons/icon13.gif[/img]
Directors Cat
Super Reviewer
Considering that there have been far worst films since its release in 1984. I understand why this film may have gotten such flack, but this isn't the only Christmas themed horror film. Black Christmas came out in 1974, and although it didn't include a killer Santa, it still had a killer killing people during the Christmas period. Personally I don't see what all the fuss is about. There are far more violent films out there in the genre and they're lauded and acclaimed as reinventing the genre. As a whole, Silent Night, Deadly Night is no different than any other Slasher film. Aside from the Christmas theme, there's nothing truly different. This is a fun cheesy good time where you see an evil Santa kill off people. I always hated Santa Claus, so using his costume for the killer didn't offend me. Like I said, I understand why the film got vilified, but if you think about it very carefully, it's a pretty silly premise for a Slasher film, and it's not one to take seriously whatsoever. This will surely appeal to fans of the genre, and along with Black Christmas remains a classic of the genre. This film is also a reminder that mainstream critics should take a chill pill and realize that these films aren't meant for them. By today's standards it's hard to believe that this was ever controversial. Considering the Saw franchise and Hostel trilogy, Silent Night, Deadly Night is a fairly tame film.
½
Hard to see what all the fuss was about by todays standards but suppose it was a bit shocking for '84. The film does look really dated now and is just unintentionally funny rather than scary or gruesome. A very poor film with cheap effects, bad acting and little plot. The good things are the typical 80's slasher feel to it, a few inventive kills and plenty of nudity. Hard to think it got 4 sequels!
Silent Night, Deadly Night Quotes
There are no approved quotes yet for this movie.
Discussion Forum
Discuss Silent Night, Deadly Night on our Movie forum!