101 Reykjavik
(2001)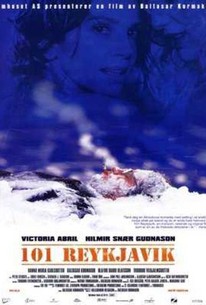 Movie Info
It's easy to empathize with adolescent apathy when it's 30 degrees below zero, nightfall at four o'clock in the afternoon, and you're knee-deep in graying snow sludge. But at 28 years old, Hlynur's a little long in the tooth to be making Nintendo, cyber porn, and getting wasted into next year his vocation. In addition to successfully resisting employment, adulthood, and even an inkling of responsibility, Hlynur has managed to stave off any committed co-mingling with the opposite sex -with the exception of his mother, that is, under whose authority and dotage he still lives. But it's amazing how a boy will snap to when he's aroused. Enter Lola, a spirited Spanish Flamenco teacher and an old friend of his mother's. After Lola and Hlynur share a drunken one-night stand, Hlynur is mortified to learn that Lola's been making house calls, only she's bypassed his door in favor of his mother's. And to add insult to injured astonishment, the happy couple is expecting their first child.
Critic Reviews for 101 Reykjavik
Audience Reviews for 101 Reykjavik
Not the worst film I've ever seen, but it gets impressively close. A film that would be completely dismissed if it had been made in the states or in the UK gets special attention and critical love simply because it depicts a city and culture not many people are familiar with. I felt like I was watching the Nordic equivalent of those junky truck stop DVD movies.
Garrett Cash
A very funny, almost deadpan Icelandic/British co-production about a 30 something slacker living with his mother and an Italian female lodger who spends his days surfing for porn and having 'just one' drink at the local club every weekend. How's that for distinctiveness? Thrown into the mix is a beautifully played "coming out" that has repercussions for said slacker, Hlynur, his feelings of worth (he doesn't try to look for work or 'better himself' - what's the point?) and his general apathetic attitude. An adaptation of a cultish novel, Baltasar Kormakur has made an incredibly warm film in a freezing cold city that has sex, heart, laughs and truth. There are no giant lessons learned or hurdles leapt over, merely small realisations and acknowledgments made. There is lots to admire here; the idiosyncratic writing, the superb performances (Hilmir Snaer Gudnason is all sorts of delightful man-child geekiness - adorable and stubborn in an awkward fuzzy package), the Almodovar-esque characters and the Damon Albarn co-written soundtrack.
Daniel Parsons
Super Reviewer
101 Reykjavik Quotes
There are no approved quotes yet for this movie.
Discussion Forum
Discuss 101 Reykjavik on our Movie forum!