The Stranger
(1946)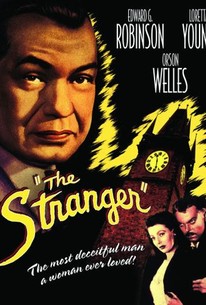 Movie Info
The Stranger is often considered Orson Welles' most "traditional" Hollywood-style directorial effort. Welles plays a college professor named Charles Rankin, who lives in a pastoral Connecticut town with his lovely wife Mary (Loretta Young). One afternoon, an extremely nervous German gentleman named Meineke (Konstantin Shayne) arrives in town. Professor Rankin seems disturbed--but not unduly so--by Meineke's presence. He invites the stranger for a walk in the woods, and as they journey farther and farther away from the center of town, we learn that kindly professor Rankin is actually notorious Nazi war criminal Franz Kindler. Conscience-stricken by his own genocidal wartime activities, Meineke has come to town to beg his ex-superior Kindler to give himself up. The professor responds by brutally murdering his old associate. If Kindler believes himself safe--and he has every reason to do so, since no one in town, especially Mary, has any inkling of his previous life--he will change his mind in a hurry when mild-mannered war crimes commissioner Wilson (Edward G. Robinson) pays a visit, posing as an antiques dealer. ~ Hal Erickson, Rovi
Critic Reviews for The Stranger
Audience Reviews for The Stranger
½
A small university town just after WW2 and one of the new professors (Orson Welles) is marrying one of the pretty local women (Loretta Young). However, a dark shadow falls over their nuptial bliss, a secret and a war crimes investigator (Eddie G. Robinson). This being a Wellsian directorial effort dark shadows and different camera angles add spice to a small story, but everything really hangs on the interesting performance of Young as a soul content with what she knows, surprised with shocking new information. See it for her.
Kevin M. Williams
Super Reviewer
½
A minor entry in the legendary career of Orson Welles, concerning a Nazi supporter (Welles) hiding out in Connecticut in the wake of the fall of the German empire, and how a skilled detective (Edward G. Robinson) tracks him down and tries to get him to confess to his true identity. Although boring at times and lacking attention to Welles new life/character that have made him so respected in the town, this movie gets a lot of things correct. Welles larger than life screen presence is consistently watchable, even when his film threatens to lose credibility and go overboard, his sound acting chops and directorial grasp keep it steady. The ending is well-done and fits the film's melodramatic second-half perfectly. Crowd pleasing if occasionally unintentionally funny in its phoniness (Robinson getting knocked out in a gym escapes logic), it is short and sweet and has an interesting enough backdrop to keep you watching.
Dan Schultz
Super Reviewer
½
Welles is so technically proficient that even his second-tier works are a clinic in form, camera blocking, and mise-en-scene. Like Bergman, he isn't afraid to use dramatic closeups to communication the emotional tics of his characters, and he always strays clear of the conventional route when it comes to his direction. The Stranger is one of Welles' more political films (which undoubtedly will turn some people off) and some of the plot points are a little far-fetched, but I marvel at how assuredly paced this film is -- culminating to yet another classic Welles-esque ending. It quickens at the right time, and plays out like a scrupulous crescendo. Of course, having one of the greatest noir actors of all time as your lead doesn't hurt either.
Jonathan Hutchings
Super Reviewer
The Stranger Quotes
| | |
| --- | --- |
| Mary Longstreet: | You killed him? |
| Prof. Charles Rankin: | With these hands. The same hands that have held you close to me. |