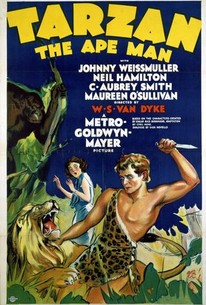 Tarzan, the Ape Man
1932, Adventure, 1h 39m
14 Reviews
1,000+ Ratings
Where to watch
Rent/buy
Rent/buy
Rent/buy
Rate And Review
Tarzan, the Ape Man Photos
Movie Info
Ivory-seeking explorers Harry Holt (Neil Hamilton) and James Parker (C. Aubrey Smith) arrive in a remote jungle to search for a mythical elephant graveyard. Accompanied by Parker's lovely daughter, Jane (Maureen O'Sullivan), the men are at odds with their dangerous environment. When the virile Tarzan (Johnny Weissmuller) and his primate companions abduct Jane, it creates conflict between the jungle dwellers and the outsiders. As Jane spends time with Tarzan, however, she begins to fall for him.
Audience Reviews for Tarzan, the Ape Man
Meh. The original Tarzan has some historical appeal and watching it can be fun in a campy way, but it just didn't click with me, despite reminding me of the classic 'King Kong' in a few ways. The white man goes to the unknown, forbidden jungle in search of treasure. The natives jump around and dance to sacrificial rites. The explorers have no qualms about blowing things away with their guns, in this case, hippopotamuses, not dinosaurs. The young woman along for the adventure falls into the hands of a powerful being who can take care of her. Tarzan, like Kong, has to fight and kill other wild creatures that threaten them. They want to bring him back to civilization, but here is it where it diverges: Tarzan has the choice, and declines, and Jane has fallen in love with him, and wants to stay. Olympic champion Johnny Weissmuller was a great choice for Tarzan (my understanding is that Clark Gable was also considered ... yikes), and Maureen O'Sullivan has great chemistry with him, so what's the trouble? I ask myself, does the movie hold up? The worst of the scenes has the explorers very noticeably standing in front of stock footage of African tribesmen in the background. Ugh. The best has Tarzan battling a lion in what looks real, and we know it's not CGI. There are scenes that drag on, dashing through the jungle and bellowing his famous cry in places he could not possibly have done, such as when he's swimming, and O'Sullivan shrieking 'Tarzan' gets quickly jarring to the ears. There are other scenes that surprise us, like Jane falling off a cliff face shortly after a native has; the difference, she's on a rope, whereas his death is treated simply as property loss, with no recognition that he was a human being. We see the African porters whipped on more than one occasion to keep up. We cringe as we hear Jane trying to stop the others from shooting Tarzan by yelling "He's White!" The racism is certainly one of the film's problems, and is more than a little off-putting. The other is the plot, which isn't all that exciting, and I began looking forward to the movie ending about halfway through. Maybe I just wasn't in the mood. Maybe I would have preferred the sequel, where it sounds like the sex and violence was ratcheted up a notch. I don't know. Just, meh.

The best Tarzan ever features loads of vine-swinging, some water frolic-ing, and plenty of the big lug going up against the many animal dangers (he takes out two, count 'em, two lions, one after the other, and this while injured) Darkest Africa might present. In the middle there's a nice little interlude wherein Jane and he simply get to know one another. And all the action is framed by the infamous hunt for the legended elephant's graveyard. Sure, the piece is as racist as it could be (the main bad guys are Black Midgets, no political message there) and much of the tech is, well, old, but no one has surpassed the sheer adventure of this telling of Burrough's White-man-as-god thesis.

When I was a kid, I just couldn't stand the Tarzan movies. But as I watch them now, I have a new appreciation for them. Sure this movie is far from perfect, but it is still an entertaining watch.
See Details