Top Secret!
(1984)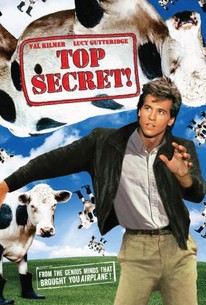 Movie Info
The second of Zucker-Abraham-Zucker's theatrical-feature spoofs (Airplane was the first, discounting the patchwork Kentucky Fried Movie), Top Secret! lampoons practically every film genre. Specifically, however, this is a hybrid of an "Elvis" movie and a World War II "underground resistance" thriller. In his film debut, Val Kilmer plays Nick Rivers, a Presley-like American rock idol sent behind the Iron Curtain on a goodwill tour. Before long, he is involved in a complex espionage scheme thanks to beautiful Lucy Gutteridge, the daughter of a scientist (Michael Gough) held captive by the Communists. Also essential to the action is flamboyant resistance leader Christopher Villiers, who behaves like Victor Mature in Betrayed (1954) and talks like James Mason. Adhering to Z-A-Z's cheerful disregard for people, places and events, the East Germans are depicted as Nazis, while the Underground is comprised of Frenchmen. The plot is mainly an excuse for the Z-A-Z team's fondness for joke-a-minute lampoonery, skewering cinematic targets ranging from The Blue Lagoon (1980) to The Wizard of Oz (1939). As in Z-A-Z's other efforts, Top Secret! scores its biggest yocks when invoking cliches that we never realized were cliches-and falls on its face whenever attempting a too-obvious gag (the biggest clinker: that pigeon statue in the park). Everyone has his or her favorite bits in this film: our faves include the resistance fighter named Deja Vu ("Haven't we met somewhere before?"), Kilmer's horrible nightmare while being tortured (he arrives too late to take final exams), the army-booted cow, the sensitive Pinto, and the East German National Anthem, sung to the tune of the Shorewood (Wisconsin) High School marching song. But let's say no more: comedy of this nature is designed to be seen, not written or read about.
People Who Like this movie also like
News & Interviews for Top Secret!
Critic Reviews for Top Secret!
Audience Reviews for Top Secret!
With less jokes per second than Airplane! (which was the kind of comedy that shot in every direction to see what could hit), this decent spoof of spy movies is more Mel Brooks than the Marx brothers and less irregular than that movie, even though not nearly as memorable.
Carlos Magalhães
Super Reviewer
If you are aware of the Zucker brothers' particular oeuvre, then you already know that this film is immature, hilarious, and is definitely worth watching. That is not to say that this film is immature in the sense that it remains juvenile, but instead is so by making fun of the odd and unordinary, and therefore has jokes that are questionable when it comes to their surreal quality, but always make you laugh. This film makes fun of both espionage films; especially those that were set in foreign countries at the height of the Second World War. This film also, weirdly enough, makes fun of Elvis Presley's musicals of the sixties by having lead actor Val Kilmer play a bodacious singer who can really dance, tapped to sing for the leader of East Germany, who, along with all the citizens of the country, are depicted as Nazis. There is a complete disregard for time, so this film comes off as very anachronistic and strange. That being said, there are a lot of specific choices in the depiction of language, including rewinding dialogue and pretending it's Swedish, and then having actors speak, and signs say, things in Yiddish that are represented as German. This film feels fresh thanks to it being the ZAZ's second theatrical release, and takes a lot of chances that always seem to pay off. They chose Val Kilmer as their lead, in his first movie role. He is an expert at dancing, sings rather well, and delivers a very interesting and funny performance that really astounded me. Other great cameos include Omar Sharif as Cedric in a rare onscreen appearance, Peter Cushing as a Swedish bookstore owner in a rewound scene that has since become infamous, and Michael Gough as the German romantic interest's father. This film is chock full of some classic and insanely funny sight gags, references, and parodies of classic films, and in itself wins every time.
Spencer S.
Super Reviewer
½
Top Secret! Is a pretty funny comedy from the directors of Airplane! The film successfully parodies many espionage films, and has plenty of laughs. The film starts off slow, but as it progresses, it becomes funnier. The cast do a fine job at delivering the laughs. This was made back when spoof films were great. Although not as funny as Airplane, this film still has enough good moments to make it a comedy worth seeing. The cast do a fine job here, and they each bring something funny to the screen. Directors Jim Abrahams and David Zucker direction is good and they are able to keep the jokes consistent and spontaneous, Top Secret is a good film, one that is memorable and lots of fun from start to finish. This is one of the funnier films with Val Kilmer, and it's so much better than his recent role in McGruber. Top Secret is a well crafted comedy that is a must see for spoof film fans. This was made back when spoofs were great, and actually funny. Not unlike today where spoofs go gross-out humor and popular culture references just for the sake of trying to create something funny, this one is witty and comical and it gets better as the films plot unwinds. Though not as good as Airplane, this is nonetheless a worthwhile comedy worth watching. Top Secret is a hilarious film, one that has a few flaws, but for the most part succeeds at being a worthy film to watch. Top Secret is definitely one of the best spoof films that I have seen, and with a great cast and directors who have a great script, it's definitely worth checking out.
Top Secret! Quotes
There are no approved quotes yet for this movie.