We're No Angels
(1989)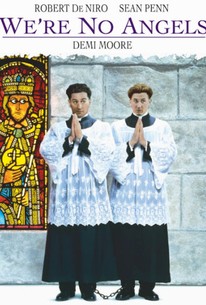 Movie Info
In this comedy, escaped prisoners Ned (Robert DeNiro) and Jim (Sean Penn) take refuge in a monastery where they pose as priests to avoid capture. Intending to flee across the Canadian border, the two convicts run into all kinds of unexpected trouble in their new-found priesthood.
People Who Like this movie also like
Critic Reviews for We're No Angels
Audience Reviews for We're No Angels
½
High powered talent delivers lukewarm oatmeal mush. Blah.
Kevin M. Williams
Super Reviewer
Expecting an out-and-out comedy(considering its plot), I was disappointed slightly, but still it was a fun watch with that feel good factor.
"Father, Father I've been shot! - I'm very happy for you." When the director is Neil Jordan, the screenwriter David Mamet and the cast includes Robert De Niro and Sean Penn, you'd think that 'We're No Angels' should be something quite good. I recently saw this and I'm stunned. But not in a positive way. Jim (Penn) and Ned (De Niro) are two convicts that escape with a murderer called Bobby (James Russo). They arrive to a town near the Canadian border, where they are mistaken for two priests that have been waited for at the local monastery. They continue to pose as priests while looking for a chance to sneak to Canada. Things just get a bit harder when Bobby, who's wounded, is captured by the police and recognizes Ned. There's a lot of potential in 'We're No Angels' but things seem to go pretty wrong here. First of all, the acting is below any standards of mediocrity. Even my favourite actor from the 70's and 80's, Mr De Niro, seems annoying in every possible way. Sean Penn looks completely lost throughout the whole movie. Bruno Kirby reminded me once again why I dislike him. There is one (actually two) good performer in the movie and that is Demi Moore's breasts... The story is totally pointless, there's like zero excitement and the character development is slim. Jim's character left me a bit confused. John C. Reilly acts as one of the monks and I'm not sure what they're relationship is. There are some homoerotic undertones between them but this monk is also a big fan of the priest, Father Brown, that Ned presents himself as. Father Brown, who is one of two priests that should have arrived to the monestery, has written a book and Reilly's character is a big fan of him. He has a copy of the book with his picture on the back cover. His picture! You'd think that he, or any of that matter, should recognize an imposter? I don't know what Jim wanted at the end. Did he find his true calling as a person of faith or did he just want to look at the monk's "sinful place"? The acting is terrible, the story is weak with lots of holes in the plot and.. Well, what else do you need to say that a film is not just worth it? As a crime movie it doesn't work and as a comedy it falls flat. Skip it.
We're No Angels Quotes
There are no approved quotes yet for this movie.