Where the Boys Are
(1960)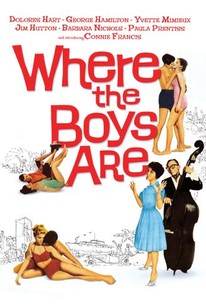 Where the Boys Are Videos
Where the Boys Are Photos
Movie Info
Yvette Mimeux, Paula Prentiss, Connie Francis, and Dolores Hart star in this frothy teen romance-drama as attractive co-eds who take off from Midwest colleges on the annual spring break to land in Ft. Lauderdale, Florida -- where the boys are. There are plenty of parties, booze, and sex to keep minds off calculus for awhile. Merritt Andrews (Hart) and Ryder Smith (George Hamilton) manage to get together, Tuggle Carpenter (Paula Prentiss) manages to let her comedic talents shine, Angie (Connie Francis) sings the hit title song, but Melanie (Yvette Mimeux) becomes a casualty of too many good times. She will recover, and all the leads will go on to good, even great careers in some cases. Dolores Hart was the only featured player here to leave Hollywood behind -- she became a Benedictine nun in 1963.
Rating:
NR
Genre:
, , ,
Directed By:
Written By:
In Theaters:
On DVD:
Runtime:
Studio:
WARNER BROTHERS PICTURES
Critic Reviews for Where the Boys Are
Audience Reviews for Where the Boys Are
This movie is first and foremost a somewhat dippy teen film that you might enjoy for the antics of Spring Break 50+ years ago (and oh how times have changed!). The movie seems surprisingly daring in the beginning when a young woman references the Kinsey report and alludes to premarital sex being natural, but eventually you'll realize the movie is conservative, still more in the 50's than it is in the 60's. It's watered down and feels sanitized, and it was tough to see the college women on Spring Break ridiculously desperate for men, actually believing they're going to find guys who will propose to them on the trip (huh??), and one simply wanting to become a 'baby factory'. In the end, its main theme is the age old clash between men who want sex, and women who want commitment. I suppose that's to be expected from a movie called "Where The Boys Are", and reflective of the times. The most poignant and serious moments come from the character played by Yvette Mimieux, who has been having sex with a guy, thinking he loves her. When she arranges to meet him in a motel, she finds he's sent one of his friends instead, after telling her she's easy - and gets raped. By my count, she tells him "no" 9 times as he advances, all smiles, about to force himself on her. None of it is shown, we just see her despondently walking into traffic, a scene which is ridiculously overplayed. Unfortunately (and outrageously) the moral has nothing to do with the guys who took advantage of her and devastated her - neither of them are seen again, presumably happily traveling north having "gotten some" - it's her ruing meeting a guy in the future who'll find out she's no longer a virgin because of her Spring Break escapades. Sigh, and grrr. And, with the Code being in effect, where evil was not allowed to win - it's clear, that this was not considered rape and not considered evil. What a horrible, horrible message buried within this silly movie. And how opposite it is to the initial premise that women should not have to "wait until marriage". If you can watch it just for the goofiness - like guys picking up and moving a car, and characters jumping in to a giant tank of water in a nightclub and making silly faces - you will probably enjoy it. You have a poor man's Marilyn Monroe (Barbara Nichols), poor man's jazz (Frank Gorshin of Riddler fame, sporting Coke bottle glasses), and a dapper George Hamilton in a black polo shirt on the beach. You have very well dressed guys and girls on the beach and on dates. You have Connie Frances making her debut and singing. I have to say, it held my interest, but I can't help but feel it could have been so much better if it had been more serious in one of its directions instead of lukewarm in all, and been a little more ahead of its time. It's certainly retrograde by today's standards.
Antonius Block
Super Reviewer
½
This was a complete wild hair watch because I noticed that the always lovely Paula Prentiss was in the cast, as well as her frequent foil Jim Hutton, so I figured I'd give it a shot since they are a lot of fun together. The idea that people went on Spring Break to try and 'fall in love' seems silly to me, just because nowadays Spring Break is all about wet t-shirts, bad decisions and drinking yourself blind, but maybe that's what people used to do back in the day. At any rate, the film is charming and I dug the leads, even if things get a bit dark towards the end because of one of the girls' bad choices. Worth a rental.
Bill Bryant
Where the Boys Are is a bad movie, but it's one of the more interesting bad movies in Hollywood history. For one thing, it created an entire film genre. It's the first teen beach movie, and if this movie is silly and artificial, it's feels like Dostoevsky compared to the moronic beach movies that would follow. It features Paula Prentiss, a terrific comedienne who could always make a project better for her presence. It also features Frank Gorshin, a hack comic who could always make a project worse for his presence (with the exception of the TV show Batman. With his over-the-top performance and his unsettling maniacal laugh, his Riddler may have been the best of the arch-villains on that show). But the most interesting thing about it is the performance of Dolores Hart, whose thoughtful intelligence radiates her every moment on screen. Hart also achieved a bit of a retroactive mystique because she left show business a couple years later to join a convent, where she lives to this day. She is one of those actresses like Frances Farmer and Julie Newmar (who famously played another terrific Batman arch-villain), for whom one might wonder what they might have produced in a movie industry that had better respect for a woman's intelligence. As with most movies of the day that purported to address important progressive issues earnestly, this is a hugely dishonest movie. Hart's character, Merritt Andrews, is a young woman who causes a minor uproar in one of her classes by taking a progressive stand on premarital sex. She is highly intelligent and somewhat troubled, and brings these inner conflicts to the den of iniquity of Spring Break in Fort Lauderdale, scrubbed to antiseptic innocuity by the Hollywood Production Code. Ultimately, the boys in Ft. Lauderdale are all looking for sex, and the girls are all looking for a ring. This is about as progressive a discussion of sex as pre-Cana catechism. I mean, seriously, did any girl in the history of spring breaks actually expect to come home with an engagement ring? Naturally, Merritt's intelligence saves her from having actual sex - it sounds good in theory, but in reality, it's BAD BAD BAD! It all comes down to preservation of the maidenhead. Good girls don't, smart girls don't, and girls who do will get date raped and walk catatonically into traffic. No consideration is given to the possibility of sex enjoyed by consenting and responsible partners for mutual satisfaction. One irresistible factoid from the Wikipedia entry on this movie is that in the book on which it's based, the students help raise money to send to Fidel Castro, who was knee-deep in his revolution down Cuba-way. Yeah, like that was ever going to get into this movie. Imagine Connie Francis in a kissing booth - Cop a feel for Fidel! She put the CHE in smooCHEs! Now THAT would be a progressive movie!
Where the Boys Are Quotes
| | |
| --- | --- |
| Tuggle Carpenter: | Girls like me weren't built to be educated. |
| Tuggle Carpenter: | We (girls like us) were made to have children. That's my ambition--to be a walking, talking baby factory. |
Discussion Forum
Discuss Where the Boys Are on our Movie forum!