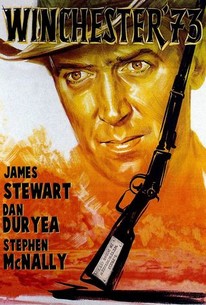 Winchester '73
1950, Western, 1h 32m
27 Reviews
5,000+ Ratings
Where to watch
Rent/buy
Rent/buy
Rent/buy
Rate And Review
Movie Info
Lin McAdam (James Stewart) pursues notorious outlaw Henry "Dutch" Brown (Millard Mitchell) into Dodge City, Kansas. There, in an effort to flush out the criminal, McAdam enters a sharp-shooting contest and wins the top prize: the eponymous Winchester rifle. Brown, desiring the rifle for himself, sneaks into McAdam's room and makes off with it. After finding the rifle missing, McAdam chases Brown across the state and toward an epic confrontation.
Audience Reviews for Winchester '73
This is the first of the eight films that James Stewart and director Anthony Mann collaborated on and their best. It's about justice, family bitterness and obsession with guns. Don't listen to those who diss Shelley Winters. She's great in this film as she is in most of her over 100 films.

Winchester 73 is one of those perfect classic Westerns (High Noon, The Searchers, Stagecoach, etc.) that never disappoints or lets up from the moment you pop in the disc. The depth and complexity of James Stewart's performance is the star here, but for me, film noir auteur Anthony Mann's textured, high contrast black and white photography is a runner up, especially in the night scenes, which have the haunting and three dimensional glowing quality of the best film noir classics. Thirdly, the perfectly cast cracker jack supporting players, all hold the screen with the masterful Stewart in his prime, full of veterans like Grandpa Walton (Will Geer), and newcomers circa 1950 like Shelly Winters, Tony Curtis and Rock Hudson. The script is subtle using natural, conversational dialogue. The acting style matches the script to a t, with almost Stanislavski-esque performance 'method' . Don't expect the wacky buddy comedy or over the top cackling villainy of some of the other later day (post WWII) Westerns. It's a well told story that wraps up perfectly and takes its time to make its big shocking revelation, adding resonance to the tragic wrenching conclusion. The 93 minutes fly by with the wall to wall excellence on display here.

Very well-made, gritty western...but it probably won't be as memorable as I would like it to be...

Winchester 73 is fine, light-hearted fun. Full of charismatic performances and a simple but functional story, it never fails to please or entertain, even if it's not exactly riveting.
See Details