The Wind
(1928)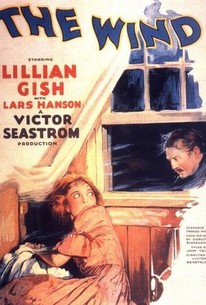 Movie Info
A country girl goes to live as with her very unpleasant Texas family, where she's forced to deal with a bad marriage, a villainous ex-lover, murder -- and the maddening, never-ceasing desert wind. Deliberately paced, highly symbolic melodrama shot on location in the Mojave Desert.
Critic Reviews for The Wind
Audience Reviews for The Wind
The film is a staggering achievement despite the forced happy ending by the studio. The mood and atmosphere are unparalleled; they are also in total harmony with the story's symbolisms. The psychological breakdown of the heroine brings to mind that of Polanski's Repulsion and it is impressive in its characterization, especially considering that this film was made in 1928. The film stands as a proof that silent cinema had reached perfection at the time as a visual medium. Victor Sjostrom creates a world with very naturalistic performances, considering the exaggerated conventions of silent films. The actors give some of the finest performances in a silent film, managing to express the finest hues of psychological characterisation. Especially Lilian Gish is a marvel in the way her face changes from one mood to the next and her body expresses her delicacy and extreme fear. Lars Hanson is also great and very moving as her husband. This is evident in the scene, after their marriage, where Gish rejects him after spending some awkward moments together as a new couple. Sjostrom uses again superimposition here as he did in his Phantom Carriage. The effect is very powerful, poetic and horrific at the same time. According to an old Indian myth, the wind is a horse that dwells in heaven. Gish's character is haunted by this image and so will be, I believe, the viewer. Now, coming to the ridiculous forced ending - it destroys much of the despairing tone of the film. It was a mistake obviously as almsot all studios' involvements to the creative process are; however, the happy ending is not as bad as it sounds. It may not be realistic, but it turns the film into a parable about growing up and learning to love reality (the wind). On the other hand, the fact that this reality is equated with marriage life sounds suspiciously like a propagation of American family values. No matter, the film is astounding as it is.
George Matalliotakis
Super Reviewer
beautifully shot in the mojave desert with eight aircraft propellers creating the relentless wind of west texas, the film suffers from the discordant happy ending forced on the director by mgm
Stella Dallas
Super Reviewer
If you are a fan of silents and haven't seen this don't delay. Lillian Gish is simply astounding.
The Wind Quotes
There are no approved quotes yet for this movie.