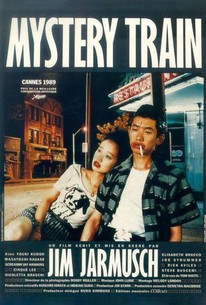 Mystery Train
1989, Comedy/Drama, 1h 53m
36 Reviews
10,000+ Ratings
What to know
Critics Consensus
Mystery Train meanders by design, but it never goes off the rails, retaining its deadpan cool throughout. Read critic reviews
Rate And Review
Movie Info
A seedy hotel in Memphis, Tennessee, provides the backdrop for three separate tales, featuring everything from a kitsch-obsessed Japanese couple (Masatoshi Nagase, Yûki Kudô) to a trio of amateur robbers (Joe Strummer, Rick Aviles, Steve Buscemi) who discover the true nature of their relationship during a botched heist. Linking the stories together is the hotel's eccentric and creepy night clerk (Screamin' Jay Hawkins) as well as the spirit of Elvis Presley.
Rating: R

Genre: Comedy, Drama

Original Language: English

Director: Jim Jarmusch

Producer: Jim Stark

Writer: Jim Jarmusch

Release Date (Theaters): original

Release Date (Streaming):

Runtime:

Production Co: JVC Entertainment
Audience Reviews for Mystery Train
Mystery Train is a fun and funny film. The characters are oddly endearing. The following-along style direction fits great with the storytelling. As with other Jarmusch films, it is hit-or-miss; some bits do not come off but the majority do. Recommended to fans of off-beat comedies, especially if you already enjoyed Down By Law or Stranger Than Paradise.

9.2/10 For a film directed by Jim Jarmusch, "Mystery Train" is surprisingly accessible and pleasantly easy to take. It is an ambitious, episodic art film that recounts the tragedy, the comedy, and the spirituality of culture that are included in the musings of many on one particular night. As a film that takes three different yet not-so-different stories to create a whole; it's not a particularly shocking revelation that it was written and directed by Jarmusch, yet I find it appealing enough to be admired by a large variety of film aficionados; something that most of the filmmaker's films might indeed lack, but only time will tell. As for accessibility amongst those raised on blockbusters and main-stream movies, I can't say the same. All three stories take place in downtown Memphis; that legendary town in Tennessee. I suppose each story is linked by the Arcade Hotel; where just about every character from each of the three separate tales stays at one point in their respective odysseys. And each journey is one unlike those of standard film fare; most of them don't have a moral point, but a point nonetheless. Jarmusch just prefers to force us to stand back and look at his film for a while before we see the big picture; and often times there is one. Other times...well, let's just say the filmmaker's ambition goes to his head. The first story - titled "Far from Yokohama" - opens on two Japanese tourists/lovers by the names of Mitsuko and Jun. They take a train to Memphis for the sole sake of some sight-seeing. We learn that this is but another stop in their trek across America; I imagine an entire film could be made from their exploits elsewhere, but Memphis is the location as well as the soul of the movie, so Memphis is all that matters. Anyways, I'm getting ahead of myself; Mitsuko and Jun make travel by foot, carrying a large red suitcase with a hand-per-person (a funny sight indeed), until they arrive at the Arcade Hotel at night after a long day of walking and visiting old recording studios (in particular, they visit Sun Records and take an exhausting tour). The female in the partnership (Mitsuko) enjoys staying in the town because she is an Elvis fan from overseas; while Jun is less enthusiastic, but still (at least) somewhat supportive of his partner's interests. The second story: "A Ghost". This segment concerns an Italian woman (Nicoletta Braschi) who has flown in to America from Rome, stopping at Memphis if only for a little while. She decides to spend a long, potentially torturous night there; which begins with an entertaining tale told by a stranger (the always wonderful Tom Noonan), and ends with her checking into, you guessed it, the Arcade Hotel. The twist is that the Italian chooses to share a room with a talky, eccentric woman named Dee Dee, who speaks of her boyfriend (who has just left her) and a good number of other things in life that have been troubling her as of now. One of the film's key moments of real brilliance is when Dee Dee unknowingly talks the Italian woman's ear off, while the latter tries to get to sleep in a polite matter. I laughed, but not because it was, at all, hilarious. I think I laughed because I understood the humanity in the scene and was open to absorb it in all its craftily-written glory. And now we are at the third and final story, titled "Lost in Space" (and yes, that title is a reference to that popular (?) 60's television series of the same name. You probably don't remember it. But Jarmusch certainly does). This concluding chapter of the story is all about the ultimate trio of drunkards; starting with Johnny (Joe Strummer) and ending with his "brother-in-law" Charlie (Steve Buscemi); smack-dab in the middle is Will Robinson (Rick Aviles), whose name is titular to this grand finale. You might be wondering what they do in this part of the film, and I will gladly tell you. Johnny turns out to be the *now* ex-boyfriend of Dee Dee (from the middle child of this story), and we first see him at a bar with a friend as he attempts to drown his sorrows in alcohol. All goes wrong when he fails to handle his liquor and the drink goes to his head; prompting him to whip out a gun in a drunken rage, which irritates and worries those around him. Will and Charlie come to the bar, they pick him up, drive him away, and all I can say is that by the end of the night, chaos has ensued, and they're back at "that" hotel. Come on; you know which one I am referring to. It's as hard to see someone not liking "Mystery Train" just as it is seeing someone fully access it in all its quiet, slow-moving, but undeniably artistic beauty. I found something rather entrancing about Jarmasch's stylistics when it came to his direction; there was no fancy cinematography, effects, or fancy...anything. As an independent film, the filmmaker behind it is forced to resort to that which they already have; and that's exactly what happens here, and it works to rather glorious effect. The characters in this film walk a lot, talk a lot, and in some instances, they even drive. They travel by road and more often, by side-walk. And I liked the characters too; which is especially beneficial to the quality of the film especially when it's all about the people involved in it and what they do. By the end, a plethora of different emotions shall be elicited; but I know one in particular that stuck with me throughout my viewing experience. Happiness. A film of great humor, themes of interaction amongst the many different ethnicities, and of course, Elvis; "The King" himself, "Mystery Train" is whimsical and impossible for a guy like me not to love. In spite of its slow pacing, which shall in itself divide audiences all over the place, I enjoyed (and savored) every moment of the ride and felt that, by the end, I formally knew places like the hotel and the streets that each character walks past every now and then. Such a feeling of familiarity is rich; and we must preserve it. I loved "Mystery Train" for its attitude, its style, its director, its writing, and its study of the world we live in as well as how philosophy, race, and even music can affect how we attempt to endure the troubles that confront us within it. I hope that Jarmusch's film finds an audience and fast; because it definitely deserves it. Unlike many films of such ambition, originality, and charm; this is one train ride that you'll want to take again and again and again; possibly until you tire of it and want to give it a break. But every train is at least worth riding once.

Another classic from Jarmusch with the backdrop of Memphis and featuring great performances especially from Mr. Screamin' Jay Hawkins.

A simple tale, told in three parts, of three groups of people who converge on the same flea-bag hotel in Memphis. The characters are eccentric, and the three tales are held together by one comically executed event in the early morning hours. This film is worth it just to see Screamin' Jay Hawkins as the desk clerk at the hotel, but there are other musicians who make appearances as well in this homage to the Memphis music scene. Even a young Steve Buscemi makes an appearance here. The humorous moments are subtle, and the story is told with a certain amount of pathos that steadily draws the viewer in until we actually care what happens to these people. Okay, maybe not for the clowns in the third segment, but for most of them, anyway. A lot of the area where this was filmed has changed since then, so this can be seen as preserving a bit of the history of Memphis as well. One of Jim Jarmusch's early efforts, it is a well crafted film and one this viewer enjoyed.
See Details