Goodbye, Mr. Chips
(1969)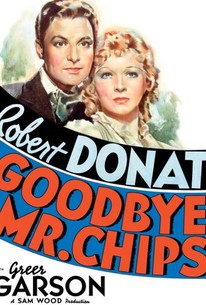 Goodbye, Mr. Chips Videos
Goodbye, Mr. Chips Photos
Movie Info
This is a musical remake of the 1939 film. Arthur Chipping (Peter O'Toole) is the staid instructor at a posh school for boys where he dreams of becoming headmaster. He falls in love with Katherine (Petula Clark) and he helps the singing dance-hall girl polish her social skills. The two are married, but Katherine is killed during in an airplane crash on her way to entertain Allied troops. Arthur carries on, dedicating his life to her memory and teaching two generations of students who were lucky enough to have him for a teacher and a friend. Herbert Ross makes his directorial debut in this sentimental musical that never approached the success of the original.
Rating:
G
Genre:
, ,
Directed By:
Written By:
In Theaters:
On DVD:
Runtime:
Studio:
MGM
Critic Reviews for Goodbye, Mr. Chips
Audience Reviews for Goodbye, Mr. Chips
½
I found the movie mediocre. Perhaps it is the age of the film - but the musical numbers seemed forced, and the movie went on too long. I enjoyed the two leads - Peter O'Toole and Petula Clark. (by the way, the photo Flixster uses is from the 1939 version of the same movie)
½
skip this and see the 1939 non musical version of this hello flixter?! u got the wrong picture (which is from the 1939 version)!!
Greg Wood
Jeez, it's been 30 years since the original, and we're still saying goodbye to Mr. Chips? Shoot, I say that like this film just came out, but really, this 1969 film actually reminds you just how blasted old John Williams is, and just how long the Oscars have been kissing up to him. Eh, whatever, this film still has a very good score, as well it should if it's to be going with some delightful songs in this musical interpretation of James Hilton's classic. Man, we had "A Star is Born" in 1954, "West Side Story", or, as I prefer to call it, that overrated and lame musical interpretation of "Romeo and Juliet", and this film in 1969, so for a while there, Hollywood was really into turning tight dramas into considerably overlong musicals, and now, as sweet irony would have it, Broadway is doing the same thing. It's amazing how quickly originality is going in the theatre, to where just about every other major musical is a stage adaptation of a film that didn't even feature musical numbers, but we're not talking about the musical industry now, we're talking about how, by the '60s, Hollywood was already running ideas, so much so that they made a musical out of "Goodbye, Mr. Chips". Hey, whatever, I'm going to complain too much, because original or not, this film is a good one, even if it does outstay its welcome a bit. Of course, lengthiness isn't the final product's only problem, because while this film has plenty of fun spots, it doesn't quite hit all of the notes that it could have. While the time frame is changed to be more relevant to the '60s, this film at least stays faithful James Hilton's story's concept of spanning several decades, yet it's hardly as emphatic about the exploration of the title character's life as its 1939 counterpart, whose considerable attention to gradual exposition gave you insight into the characters' background, something that is, of course, not as fleshed out as it could have been within this film, which feels underdeveloped in plenty of ways, even though it's easy to recognize these characters, seeing as how they are types who are a bit too familiar for their own good. Okay, perhaps the film's characters aren't trite, but they are a bit formulaic, much like several other areas within this film, which isn't necessarily generic, or at least doesn't appear to be, - what with there being so much refreshing compensation for originality lapses in story structure - but certainly hits more than a few tropes that reinforce predictability. Even if you're not fully aware of this film's source material novella and film, it's easy to calculate its path, because even though conventions aren't abundant, they taint just enough places to make the film predictable, and I must say that this film's familiar path would be easier to trek if the final product didn't unravel it rather slowly. That being said, this film's path is never too much of a challenge to trek, largely because it's not as slow as it could have been, at least when you compare it to the much more British and dry 1939 film, but there is the occasional disengaging limp spell to be found in here, which is to be expected, because a film of this nature can go on for only so long before momentarily limping out. At over two-and-a-half hours, this film is much longer than its 1939 counterpart, and sure, there are enough musical numbers and expansions upon Hilton's relatively simple source material to stretch the film out organically, but not necessarily to this extend, partially achieved by some repetition, which may not be so severe that it drives the final product into the aimlessness that claimed Sam Wood's film, but still slow down momentum. At the end of the day, there really aren't too many flaws to this film, and what flaws there are stand to be more glaring, but there's not quite as much to the film as there could have been, as there are still too many thin spots within this story and pacing issues within this storytelling for the final product to reward all that deeply. Still, while the film isn't a deep hit, it does, in fact, reward, and that's more than you can say about Sam Wood's 1939 drama, which, even then, was decent, though not as much as this film, which goes carried by anything from generally engaging storytelling to tasteful style, and not just within the musical aspects. The film is hardly a stunner, or at least doesn't seem to be in retrospect, but it is still very handsome, with cinematographer Oswald Morris delivering on tasteful, sometimes rather dreamlike lighting that gracefully plays up coloring in a fashion that is lush enough to catch your eyes time and again as a worthy visual companion to fine musical artistry. Before becoming, if not starting up his status as one of the most influential and recognizable film score composers of all time, John Williams broke up this film's quiet spells and musical numbers with a score that earned him his second of, like, 117 Oscar nominations, and understandably so, for although Williams' efforts aren't as played up or as unique as you might hope, they're still rich with that distinct range between colorfully spirited lightness and grandly, intricately composed punch that not only does a lot to drive tonal structure, but charges a score that is thoroughly entertaining by its own right, and a strong component to the film's musical entertainment value, which is perhaps most built around Leslie Bricusse's contributions. There aren't quite as many musical numbers as I expected, and when they show up, they hit the occasional, if expected cheesy spot, particularly when it comes to all too often weak lyrics within Petula Clark's Katherine Bridges character's numbers ("You smiled... I smiled... We smiled... and the sky smiled, too!" Oh yes, very creative and dynamic lyrics; Bob Dylan, eat your heart out), yet on the whole, Bricusse's musical additions to James Hilton's story, while not really needed, really color things up with a delightfully old-fashioned, theatrical flavor that entertains and helps in distinguishing this otherwise somewhat conventional film. The final product looks good and sounds good, with a handsome visual style and lively musical style that end up playing rather large parts in driving the entertainment value of the film, but in order for this effort to be good on the whole, it doesn't need style, it needs substance, and it certainly delivers on that. I kind of wish that this film was more emphatic about its progression in time, and how it affects our characters and their world, for although James Hilton's story is mainly a simple one, such a key aspect boasts a wealth of dramatic potential that I could see this film nailing, but in so many other ways, this slightly loose interpretation of Hilton's classic is even richer, with more focus than Sam Wood's 1939 adaptation, and more potential that is, more often than not, done justice by inspired storytelling execution, both within Terence Rattigan's witty and reasonably well-rounded script, and within a debuting Herbert Ross' direction, whose hearty spirit makes atmosphere generally lively, if not kind of moving at times. There's not so much wealth to the sketching out and telling of this tale that the final product stands a chance of being especially strong, but there is inspiration to drive the film a long way, and not just off of the screen, because even though this film's hefty cast isn't as explored as you would expect, when a member of this roster of talented performers is brought under the spotlight, he or she delivers on plenty of charisma, as well as chemistry with his or her fellow charmers, with leading man Peter O'Toole stealing the show about as much as he carries it, taking on a unique interpretation of the title character that runs a risk of not working and throwing off those who embraced the less dry and more layered original vision of the Mr. Chips character, but ultimately hits, thanks to O'Toole's charisma and subtle range, which are so assured that they immerse O'Toole into the role and sell you on Chips' deeply human, gradual build in wisdom and heart during the process of finding love and appreciation from and for his peers. Our lead, or as he is referred to in this film, Arthur Chipping (More British than ever), is uniquely crafted, yet O'Toole is just as immersed in the role as Robert Donat is, carrying the final product as just one of several compelling forces that may not fully obscure what flaws there are, but still go into making this effort not only much stronger than its 1939 counterpart, but consistently entertaining and rewarding by its own right. To wrap up this number, there are undercooked areas and overlong areas, - backed by the occasional slow spell in atmospheric pacing - as well as conventionalism, and such issues aren't too severe, but they allow you to meditate upon certain natural shortcomings, of which there are enough to hold the film back from all that much strength, but not so far back that the handsome cinematography, strong score and musical numbers, and enjoyable substance, brought to life by witty writing, lively direction and a charismatic cast, - headed by an immersed and driving Peter O'Toole - don't go into making Herbert Ross' "Goodbye, Mr. Chips" a generally highly entertaining, often moving and altogether rewarding, unique take on James Hilton's classic novella. 3/5 - Good
Cameron Johnson
Super Reviewer
Goodbye, Mr. Chips Quotes
| | |
| --- | --- |
| Katherine: | ...but you risk losing everything you hold dear. |
| Katherine: | But you risk losing everything you hold dear. |
| Arthur Chipping: | Everything I hold dear (as he holds Katherine) I am holding now. |
| Arthur Chipping: | Everything I hold dear [as he holds Katherine] I am holding now. |