Sibling Rivalry
(1990)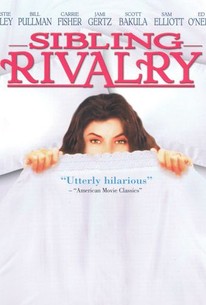 Movie Info
In this black comedy, housewife Marjorie Turner (Kirstie Alley) is married to a doctor who doesn't appreciate or pay attention to her. At the urging of her wild sister Jeanine (Jami Gertz), Marjorie has an affair with an intriguing stranger, only to have him die while the two are in bed together. After Marjorie flees the scene, she discovers that her troubles are only just beginning.
Rating:
PG-13 (adult situations/language)
Genre:
Directed By:
Written By:
In Theaters:
On DVD:
Runtime:
Studio:
Nelson Entertainment
Critic Reviews for Sibling Rivalry
Audience Reviews for Sibling Rivalry
½
This isn't the greatest movie of all time, but it's a pretty funny, original, screwball comedy. It also holds some nostalgic charm for me, as it was one of the few movies I had on VHS when my husband and I first got married. I picked it up randomly at a thrift store and watched it more times than I can count. That's what happens when you don't have cable! Then a movie becomes like an old friend, one you look forward to revisiting now and then. The story is a little over the top, but everyone plays their part well. I especially love Jamie Gertz as Kirstie Alley's free-spirited sister, and Bill Pullman is just straight up bizarre! If you're looking for an Academy Award winning film that will change your life, this isn't it, but if you want to kick back to a light-hearted movie with a few laughs, you might enjoy watching it at least once.
Jakki Jelene
Kirstie Alley brings to life one of her many goofy sides in the equally goofy comedy, Sibling Rivalry. A film (somewhat forgotten in recent years) which brings the term "complicated" to an entirely new dimension, most should get their fair share of laughs with it...if they can follow the challenging story! Dark comedies tend to be "hit or miss" with many audiences. Some may find this one to be more ridiculous than they care for, but it still has its laughs, nevertheless. Alley plays Marjorie Turner, an ambitious woman unsatisfied with her marriage who decides to "experiment" with a strange older gentleman. The sex is amazing at first (especially since she and her husband have not gone that far in a long while), but then he ends up dying afterward! As if this was not ludicrous enough, she has to find out the hard way that he is actually her husband's long lost brother! And the story somehow manages to become even quirkier from there! A dark (make that incredibly dark) comedy that most should enjoy thoroughly (more or less depending upon how sick their sense of humor is), a decent cast (especially the very watchable Alley still in her prime) gives the film even more to enjoy along with the surprisingly decent supporting half. The script's constant bizarre turns (which lead up to a somewhat predictable outcome) are fun for the most part and many viewers may realize how incredibly normal their lives are in comparison after an initial viewing. If there is one phrase to describe this film, it is "expect the unexpected!" Some may question how the film got its title as the "sibling" aspect was more of a side plot and its alternate title, Brief Fling with a Corpse caused it to be more successful in other countries.
Jeffrey Leppart
Wacky and very entertaining comedy, filled with bizarre coincidences and situations that provide plenty of laughs. The cast is great, especially Kirstie Alley, Frances Sternhagen, Bill Pullman and Jami Gertz is great in one of her best roles. There is nothing deep here, but it's good fun.
James Higgins
Sibling Rivalry Quotes
There are no approved quotes yet for this movie.