The Tales of Hoffmann
(1951)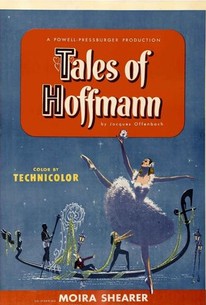 The Tales of Hoffmann Photos
Movie Info
Newly restored version of the 1951 Powell and Pressburger classic, based on the 1881 opera by Jacques Offenbach. An anthology of fantastic and romantic adventures, recounted by the fableist Hoffmann (Robert Rounseville) and featuring Moira Shearer (The Red Shoes), Ludmilla Tchérina, and Ann Ayars. The film has been singled out by both Martin Scorsese and George A. Romero as a major influence on their own work.
Critic Reviews for The Tales of Hoffmann
Audience Reviews for The Tales of Hoffmann
The famed Powell/Pressburger team bring us an opulent staging of Offenbach's "The Tales of Hoffman," an opera divided into three parts in which the title character tells a tavern about his doomed past loves. The first and longest section, involving Moira Shearer as a life-size doll, is easily the most entertaining and includes cute, no-tech illusions of her body being "disassembled." Otherwise, the stories aren't easy to follow except in the broadest way (a prostitute and magician plot to steal Hoffman's reflection, and an opera singer sings herself to death), because the shrill lyrics are too difficult to discern. Furthermore, only two of the actors do their own singing, and there is an palpable awkwardness with the syncing -- especially when ballet dancers are trying to mouth words as they dance. The best features are Shearer's willowy dancing and Robert Helpmann's mugging as the recurring villain (he'd be perfectly at home in a Fritz Lang silent). And this is Powell and Pressburger, so of course the colors and sets are like magical paintings come to life.
Eric Broome
Super Reviewer
During the first intermission of a ballet in Nurnberg, students and other members of the audience retire across the street to a tavern for a quick beer before Act 2. While there, Hoffman(Robert Rounseville) starts to tell his stories of woe. So compelling are they, that his audience decides to skip the rest of the ballet, with the pipes being broken out, to hear what else he has to say; starting in Paris before the Eiffel Tower was built where he encountered Olympia(Moira Shearer). "The Tales of Hoffman" is a highly entertaining mix of ballet and opera, where Moira Shearer dances her legs off while everybody else sings their hearts out. Visually, Michael Powell and Emeric Pressburger pull out all the stops with the aid of cinematographer Christopher Challis who makes the perfect use of Techicolor for these dreamlike fantasia, each set in a different locale. As such as the movie is about the different expressions of art(Hoffman is a famed poet by the end), these settings also resemble paintings and are works of art in themselves. It is no wonder then that Hoffman gets so lost in them, missing what is right in front of him all the time, the constant companionship of his faithful friend Nicklaus(played by Pamela Brown, thus even adding a bit of genderblending into the equation) through thick and thin.
The Tales of Hoffmann Quotes
There are no approved quotes yet for this movie.