The Entertainer
(1960)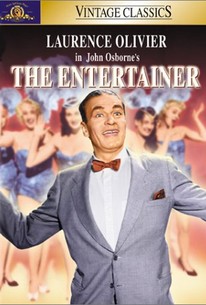 Movie Info
Laurence Olivier recreates his stage role of Archie Rice in this in-your-face film adaptation of John Osborne's play. The son of a legendary music hall comedian (Roger Livesey), Archie is strictly a third-rater, headlining a tacky music hall revue in a seedy seaside resort town. Archie can't admit that he's a failure, and his grim insouciance destroys everyone around him. Archie finagles his dying father into financing one last revue; he cheats shamelessly on his alcoholic wife (Brenda De Banzie); and he all but forces one of his sons (Albert Finney) to run off to join the army, only to die in the Suez. Through all his personal crises, Archie jigs and jabbers before his ever-diminishing audience, but by the end of the film he isn't even entertaining himself. Joan Plowright, who married Olivier shortly after completing The Entertainer, plays the film's one sympathetic character: Archie's daughter, whose love for her father blinds her to his flaws. The Entertainer was remade for television in 1976, with Jack Lemmon as Archie Rice and original songs by Marvin Hamlisch.
Critic Reviews for The Entertainer
Audience Reviews for The Entertainer
A standout entry, with early performances by nearly unrecognizable Joan Plowright, Albert Finney and Alan Bates, this concerns not only the gradual decline of one seedy and narcissistic performer (Larry Olivier chewing scenery with abandon), but also of an entertainment style (the English music hall) and perhaps of England herself, seen from the guts outward. A glorious kitchen sink production, grime-y and livid.
Kevin M. Williams
Super Reviewer
The Entertainer is slice of history, and is an ably presented filming of the John Osborne play. Though the story's political allegory is now old and faded itself - Archie Rice/Lawerence Olivier's pathetic floundering music hall and career, which stands in for a fading, bankrupt post-WWII Britain ,what remains is still worth seeing. This is a kitchen sink family drama with terrific seedy English seaside and sleazy theater atmosphere. Tony Richardson's early career showed great promise, and this film is a beautiful example of his talents. It contains Sir Larry's most heartfelt and naturalistic peformance on film and it's too bad that he didn't have more of these type of interior, heartfelt performances on film, the grandiose Shakespearan dramas aside. The cast includes a who's who of future British film stars,as Archie's three grown kids - Alan Bates, Albert FInney and Joan Plowright, all in their first film appearances. Robert Livsey and Brenda de Banzie as Archie's elegant music hall dad and his second wife, an alcoholic, are also wonderful. For a Canadian, it's amusing that the panacea for the family's problems is to make a new life in Toronto, something that Archie resists till the end of the film after a whole load of tragedy has beaten him down. Without the contemporary relevance of 1960, this is just a very good family drama with a top notch British cast, but no world shaking groundbreaker. The DVD transfer is crisp and looks fantastic.
Josh Morris
Super Reviewer
If you only know Olivier from dignified Shakespearian performances prepare yourself for an epiphany of colossal proportion.
Randy Tippy
Super Reviewer
The Entertainer Quotes
There are no approved quotes yet for this movie.