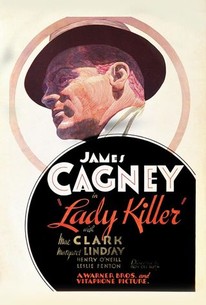 Lady Killer
1933, Comedy, 1h 16m
4 Reviews
250+ Ratings
Where to watch
Rent/buy
Rent/buy
Rent/buy
Rate And Review
Movie Info
After theater usher Dan Quigley (James Cagney) is conned by a band of clever criminals led by Spade Maddock (Douglass Dumbrille), he decides he's in the wrong business. He joins the gang and rises in the ranks, showing a natural flair for crime. But, after the police get smart to his capers, Quigley heads for Los Angeles. There, a Hollywood executive sees star potential in the usher-turned-criminal, and Quigley flourishes in movies -- until the old hoods get wind of his whereabouts.
Audience Reviews for Lady Killer
A very funny pre-code movie with a great performance from Cagney. If you're a fan of his, don't miss this movie.

Lady Killer is either a comedy that wants to be a gangster picture or a gangster picture that wants to be a comedy. It never really executes the combination of the two smoothly and the best you really get is a mess with a handful of amusing moments--one of which features monkeys trashing a party. James Cagney definitely has fun with the comedic side of the role while taking breaks playing his trademarked tough guy persona by giving Mae Clarke and arguably deserved tough time. The rest of the cast kind of falls to the wayside but even if you're not impressed, all you lost out on is an hour and 15 minutes of your life.

james cagney teams up with his "public enemy" costar mae clarke, the wretched woman who gets slapped with a grapefruit by cagney, in the gangster slapstick"lady killer". conventionally, hollywood favors to categorize women into the dichotomy. since clarke is the bandit moll who doublecrosses cagney, magret lindsay would be the mighty dame with heart of gold to accompany cagney thru the odds. cagney plays a regular sap who encounters the bandit moll mae clarke who literally makes a living by deceiving men into her apartment's gambling racket. then cagney robs the joint as his own to make big dough, but ill-fatedly the gang gets caught by police due to misfire. consequentially cagney elopes with clarke to california, but their escape still leads to jail. and clarke cheats his five grands instead of bailing him out. later cagney gets spotted by film studio due to his vagabond rough looks, so he becomes a hollywood starlet who romances margaret lindsay (cagney's costar in "g men", the typecasting of flat good girl)...somehow his former gang schemes to trap him into the new racket...so how shall cagney untangle the mess and comes off clean? chauvinism seems unavoidable in the genre of gangsterism, particularly when it meets the magnitude of jimmy cagney who brazenly bares his misogynistic contempt thru domestic violence which was embraced with wholehearted welcome by the audience in the 30s. here cagney's character even drags mae clarke's hair then tosses her outside the door. clarke has been provided with more chances to demonstrate her sex appeal in this one but tragically she still falls as the prey of masculine abuse just like "public enemey" to form a demeaning but titillating effect to the audience. the production of "lady killer" seems crude as the vehicle for cagney, it's like the studio predicts that audience would go for any crap made of the public enemy persona, so this time they manufacture another version of cagney going legitimate as the conformed actor with a laughable mustache which apparently attempts to parody the mgm male stars. it contains every idiosyncratic cliche (or vice?) of the 1930s cinema, such as sexism, slumming, racketeering, hoodlum into nouveau riche...etc. it would probably takes a fan of cagney or an ardent admirer for the 30s like myself to appreciate "lady killer".
See Details