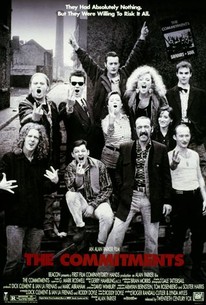 The Commitments
1991, Comedy/Drama, 1h 57m
48 Reviews
25,000+ Ratings
What to know
Critics Consensus
The Commitments is a vibrantly funny and blissfully heartfelt ode to the power of music. Read critic reviews
Where to watch
Rent/buy
Rent/buy
Rate And Review
Movie Info
Jimmy Rabbitte (Robert Arkins), a self-proclaimed promoter, decides to organize an R&B group to fill the musical void in his hometown of Dublin, Ireland. The band comes together but ends up consisting entirely of white musicians who have little experience with the genre. Even though their raw talent and lofty aspirations gain the group notoriety, the pitfalls of fame began to tear at their newfound friendships as they prepare for their big show. Based on the novel by Roddy Doyle.
News & Interviews for The Commitments
Audience Reviews for The Commitments
You know, it's a great thing this movie came with subtitles or else I honestly would have had no idea what any of the actors were saying. Especially in the scenes where they're all talking over each other or arguing about whatever it is they argued about. And, let me tell you, there's a lot of the latter in this movie. The problem comes in the fact that the Netflix subtitles, for one reason or another, after a certain point, were like a couple of seconds behind the actual dialogue going on in the film. Now, unless it was a scene between two people and both spoke clearly, it was really difficult to keep up during the arguments, when everybody's saying something but you can't make out any of it because of the fact that the subtitles haven't caught up yet. This happened to me a lot on Amazon Prime, but Amazon Prime was considerably worse, sometimes it'd be 10 seconds behind the actual dialogue. I couldn't have watched this movie on Amazon Prime with the subtitles 10 seconds behind the dialogue. It would have been impossible. And, really, that's part of the reason why I didn't give this film a higher rating than the one I gave it. I mean I got the gist of what they were saying even though I was playing catch up for most of the flick. But it's also possible that I would have given this movie the exact same rating even if the subtitles were right on time. With that said, I still thought that this was a damn good movie regardless with a lot of great musical performances. Maybe too many musical performances for my liking. And what I mean by that is that they didn't pace them out as well as they could have. Sometimes you'd have two straight performances back-to-back. And there's nothing wrong with that in the way that the band is actually great and the performances are actually pretty damn excellent. But, and this was something that I felt was a problem with The Nightmare Before Christmas, is that there's not a good balance of song-to-story. And that's really just as important as the performances themselves, maybe even more important as these scenes are meant to build up the characters, their relationships and their personalities. And, like I said, the movie just doesn't find a great balance between these elements and I do believe that it detracts from what would have been a great movie regardless. I do very much like the story that the movie tells with this band, a local band that performs covers of old school soul songs, finding a bit of success and the respective members of the band letting that success go to their head. Either that or it's interpersonal arguments between people in the band who just don't like each other for whatever reason. I like that because, and I'm not saying it's something that happens to every major band, but when you think about most successful bands, you usually imagine the fact that they hate each other and they drive in separate tour buses like Motley Crue or KISS when they reunited the original band in 1996. So to see that happen on a considerably smaller level was actually real entertaining. The Commitments weren't even successful on a national level, they were successful in the Dublin area. So seeing them tear each other apart from the inside out, not even taking into consideration how great of a band they are, was interesting to see. The acting and writing are more than solid as well, so no complaints there whatsoever. I don't really know what else to say honestly. The musical performances are the definite highlights of the movie, but I wish there would have been a stronger focus on the narrative and the personal issues between the band members that forced them to pretty much split up by the end of the film. At least as far as the protagonist tells it, since he interviews himself throughout the film, telling the story of the band. He could very well have been making all of the post-breakup events for the band members. Anyway, I still really liked this movie in spite of the issues I had with it. It's a damn good movie and I would give it an easy recommendation if you have Netflix.

In the tradition of <i>Waking Ned Devine</i> and <i>The Full Monty</i>, this is a delightful, optimistic ensemble piece from across the pond. While there are few conflicts in between the characters, the main conflict that drives the film forward is understated - people wanting to succeed in an world that doesn't assent. There is little in the way of comedy, "littler" in the way of drama, and too many musical sequences for my taste, but it's hard to fault the movie for any of these things. Suffice to say that I mildly enjoyed the experience of watching this film, and there's little to complain about.

The Commitments is a faux band-bio that is a great way to spend an evening watching a film. This genre has been done many times, but Alan Parker's film is the most organic and realistic of any I've ever seen. It's got some great music, intercut with sharply written dialogue, and that's strewn with working-class Dubliner expletives that are both amusing and authentic. The background of Dublin is captured perfectly in Parker's lens, and the editing and scene choices are a complex mosaic of the lives of the characters. It's so well done, you barely notice how much is going on, and how much subtext is in ever look, ever word and glance. It's really well done. casting is perfect. There are many characters that make up the band, and they're all distinct and interesting. The writing and direction brings them so alive, you'd swear you know some of them as friends (or foes) of yours. The struggles of the various characters are easy to understand and bond with, and how the music they make is when they are truly alive. The other beautiful thing about The Commitments is how beautifully unglamorous the whole situation is. The people are imperfect humans with enough talent to be able to rise above their rather squalid existence. You really hope they make it, even though you know not everything will be rosy in the end. If you love music (even if you're not a soul fan) you'll love the message and spiritual feeling of The Commitments. Recommended for all you eejits.
See Details