The Vanishing
(1993)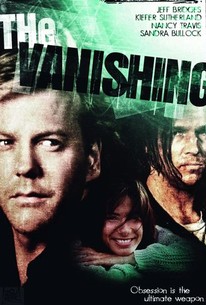 Movie Info
After his girlfriend Saskia disappears at a rest stop, Rex spends the good part of three years searching for her. Finally, Saskia's abductor approaches Rex with promises of information, setting off a cat-and-mouse game that results in one of the most shocking endings of all time.
People Who Like this movie also like
Critic Reviews for The Vanishing
Audience Reviews for The Vanishing
Barney Cousins: To me, to kill is not the worst thing you can imagine. There is more.  "Obsession is the Ultimate Weapon" The Vanishing is miles from the amazing original and ends up only making me want to revisit Spoorloos. To be fair though, I didn't necessarily hate this movie until the ending. Sure it had it's problems throughout, but I pretty much expected that. The ending is sure to outrage anyone who has seen and loved the original. It's sad that, in remaking the film, they would decide to end it in the way they did. Obviously it was to appeal to a mass audience who loves a happy ending.  The cast has some pretty big names. Jeff Bridges, Keifer Sutherland and Sandra Bullock. None of them give very memorable performances and that disappoints me because I do normally enjoy watching all of them. None of them were quite as bad as Nancy Travis though. She was thoroughly unbelievable, just like the movie. Everything just seems off when compared to the original. I can see people who haven't seen Spoorloos liking this based on the fact that they have nothing to compare it to.  The Vanishing is a great example of a Hollywood team totally destroying everything that was great about the movie it is remaking. Sometimes American remakes can come through; for example Let Me In. The big difference that makes Let Me In a good remake compared to The Vanishing is that it is respectful to the original. The Vanishing changes to many key elements of the film to allow the main ideas to get across. Hopefully this at least has made a few people curious enough about the original, to find and watch it. 
Melvin White
Super Reviewer
Skip this & watch the original one again, Although I was expecting the ridiculous happy-ending but it was still more ridiculous than I thought, It's a pity because I like Sutherland & Bridges
½
A thoroughly exciting psychological thriller. I haven't seen the original version of this movie made some 4-6 years before this movie by the same director with the same name, so I enjoyed it all the more. However, if you get the original one, prefer watching it as the climax has been changed and as per the reviews in general, the first one was better than this one. However, this is also worth a watch if you don't get the original. It wouldn't be advisable to miss this one if you really love movies of thriller genre.
familiar stranger
Super Reviewer
The Vanishing Quotes
| | |
| --- | --- |
| Barney: | I don't need a gun. Your obsession is my weapon |
| Barney: | I don't need a gun. Your obsession is my weapon. |