Born Yesterday
(1993)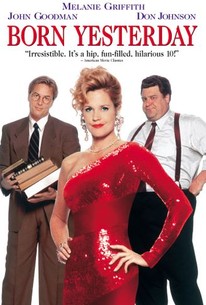 Movie Info
This 1993 remake of the 1950 film Born Yesterday (based on the 1946 Garson Kanin stage play) was retooled as a star vehicle for then-marrieds Melanie Griffith and Don Johnson. Roughneck self-made millionaire Harry Brock (John Goodman) wants to become a powerful Washington lobbyist. Brock's efforts to hobnob with DC uppercrust are compromised by his brash, embarrassingly vulgar mistress Billie Dawn (Melanie Griffith). He'd like to unload the ex-chorus girl, but he thinks he's in love: besides, she knows too much about his crooked dealings to be running around loose. Thus, Brock hires bookish Paul Verrall (Don Johnson) to educate Billie. Verrall does his job amazingly well, awakening Billie to her responsibilities as a loyal, honest American: along the way, the two fall in love. Featured in the cast are Washington Post editor Ben Bradlee and his star reporter (and wife) Sally Quinn, cast as DC power brokers. Also appearing in a small role is 1960s starlet Celeste Yarnell.
Critic Reviews for Born Yesterday
Audience Reviews for Born Yesterday
½
Melanie Griffith, as Billie Dawn, executes the role with such integrity. So convincing as she makes the film hers. But as a film, it just doesn't fit in well with the era. It feels as though they lifted a 1950 film and forced it to fit into 1993. They tried making a non-90s film but didn't pull out all the stops--or any stops, really. It just felt unexplainably awkward during most scenes. However, the film wasn't intrinsically bad. It was actually quite enjoyable. The characters are likable, the themes are sincere, and the dialogue is snappy. A lot of the time it even overcomes its sloppy direction and confused narrative, but those faults are never forgotten about and a few times distracting. The setup is on the border of boring and the tone is intermittent. It also never fully commits to any of its antagonists, and even slips up a couple of times with Don Johnson's character, Paul. Born Yesterday is one of those films that is enjoyable and possibly forgettable at the same time. It means well, but could have been a better remake. And although I wouldn't necessarily recommend it, I wouldn't be against watching it again. Twizard Rating: 73
Ethan Brehm
½
Melanie Griffith is a total charmer in this but everyone else is just okay.
Sunil Jawahir
Super Reviewer
Born Yesterday Quotes
There are no approved quotes yet for this movie.
Discussion Forum
Discuss Born Yesterday on our Movie forum!