Blown Away
(1992)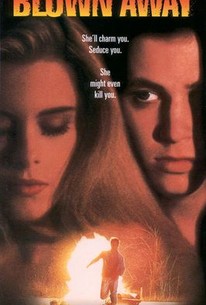 AUDIENCE SCORE
Critic Consensus: No consensus yet.
Movie Info
In this sexually charged thriller, Rich (Corey Haim) is an 18-year-old working at an exclusive ski resort while his older brother Wes (Corey Feldman) serves out a sentence in the state prison. Rich becomes strongly attracted to Megan (Nicole Eggert), a beautiful young woman whose father owns the resort -- and whose mother died under mysterious circumstances. Rich and Megan fall into a passionate affair, but when Megan begins to suggest that their lives would be better if her father were out of the way, Rich has to ask himself just how far he's willing to go for love. Blown Away was released in two versions -- an R-rated version and an un-rated cut that features more nudity and more suggestive love scenes.
Rating:
R
Genre:
, , ,
Directed By:
Written By:
In Theaters:
On DVD:
Runtime:
Studio:
Lionsgate
Audience Reviews for Blown Away
Blown Away(1992) Starring: Jean Leclerc, Corey Haim, Nicole Eggert, Corey Feldman, Lean Leclerc, Kathleen Robertson, Gary Farmer, Rex Hagon, and Ray Sager Directed By: Brenton Spencer Review She'll charm you. Seduce you. She might even kill you. Hello Kiddies your pal The Cupid Critic here and have you ever been so in love that you'll just kill. Well we have a picture with boring characters, a semi interesting plot and the only thing good at about it is the climax. After her mother is killed by a car bomb, a 17-year-old girl lives a reckless and decadent lifestyle. She begins having sex with a boy who works at a local ski resort. He falls in love, and she tells him of her suspicions that her strict father was responsible for her mother's death and wants him to help her out of her situation. He must decide whether she's telling the truth or using him to her own ends. The film is so boring, its plot is suppose to be a crime thriller about murder and lies. But I don't care for anyone who dies in the picture, not the girl, not the father or the mother in the beginning. It's very difficult for me to get into a murder story unless I care about those who die. The film did not achieve its goal as a romance crime thriller. The performances feel bland like butter, like no one look invested in their roles so it was very difficult for me to invest in their characters, they all acted like if they were saying their dialogue in monotone. That also contributes to poor direction, but the film is shot nice. The film doesn't come all together to well, I did enjoy the climax, the film is shot good, but with poor story and characters this thriller falls flat. I'm giving Blown Away a two out of five.
Edward Cantillo
½
Blown Away, what a great movie to watch as a young man. It had the Two Coreys at the height of their fame and the OH SO BEAUTIFUL Nicole Eggert. This movie is full of passion, suspense, and a murder mystery thrown in. The story here moves along pretty nicely and the acting is ok. I liked the little twists in the movie as well and it I kind of see it as similar to Wild Things in some ways. Plus, Nicole Eggert, enough said.
Greg Prather
A bad tacky 'made for TV' film which I don't think was actually made for TV haha its that bad. Its bad in two ways, firstly the acting is terrible and the two Corey's as usual stink, its made worse because they are actually trying to be serious and it just doesn't work, the rest of the cast aren't much better to be honest. Secondly this just plays out as a soft blue movie for young girl fans of Haim and all male fans of Eggert as there's plenty of soft sex scenes and ass on show lol plus Eggerts tits!!! good but kinda cheesey and a pathetic audience luring method. The plot is an old one with a reasonable twist at the end but nothing too special, I'm afraid when the two Corey's were together the films weren't too good....films made after The Lost Boys of course, that was their brief peak.
Phil Hubbs
Super Reviewer
Blown Away Quotes
There are no approved quotes yet for this movie.