Thumbelina
(1994)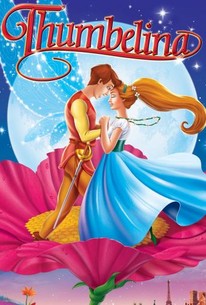 Movie Info
The voices of Carol Channing, John Hurt, Jodi Benson and Gilbert Gottfried help bring this wonderful Hans Christian Andersen story to life. Barry Manilow contributed heavily to the film's music. Children still seem to enjoy this story about a young girl who was the size of a human thumb. She was kidnapped by a toad, just when she hoped to continue her life with Cornelius the Fairy Prince. This is a good "family film" with few, if any, parts that might be considered questionable for children. Kids are likely to enjoy how Gilbert Gottfried does the voice of a strange beetle and how Carol Channing breathes life into Ms. Fieldmouse.
Critic Reviews for Thumbelina
All Critics (8) | Top Critics (2) | Fresh (2) | Rotten (6) | DVD (5)
A huge disappointment from Don Bluth.
July 26, 2002 | Rating: 1/5
The film is for very young children and people in comas.
A little more Thumbelina spunkiness would have gone a long way toward making this a more compelling story for kids - and especially for grown-ups.
February 19, 2002 | Rating: 65/100
Audience Reviews for Thumbelina
Thumbelina is based on the Hans Christian Andersen book of the same name about a very small girl (literally about 3 inches tall) who wants to meet a fairy and she ends up getting her wish when a fairy prince named Cornelius visits her. The two schedule another meeting but a frog woman takes thumbelina to her house to marry her son. Thumbelina escapes and is now trying to find the prince and get home. Now seeing how this is Don Bluth after his, how shall I say, downfall in quality, I wasn't expecting much, especially seeing how it seems like its trying to be like a Disney Princess style film, but what I got shocked me immensley, and not in the good way. Okay Thumbelina gets a cast of both voice actors, singers, and comedians, but every character in the film is either a stereotype, bland, not developed enough, or just ungodly annoying, mainly that last one. Jodi Benson plays Thumbelina but its basically Ariel from Little Mermaid, just with less personality and more one dimensional, which is sad because Benson has done good characters before but this character was written so poorly and just not that interesting. But the worst character in the film is Jacimo the sparrow played by Gino Conforti. Conforti, I don't know what went wrong but this character was the most obnoxious thing. The design is annoying, he's overly optimistic, and the accent drives me crazy, It also doesn't help he gets two songs in the film and those are just as annoying as him. The only character that I liked was Gilbert Gottfried as the Beetle. Not only is he this films only saving grace, but his character is also really funny. The design of the character is interesting, and his one liners and dialogue is just hilarious, but aside from that there are no memorable characters in this film. Now the music is another story. Now for starters, Barry Manilow. I never thought he was a good composer and sometimes he'll just take other peoples songs and mess around with the lyrics and make up his own and keep the tone and beat to it. But the songs hear are just as obnoxious as almost all the characters in this film. Jodi Bensons songs are slow and drawn out too long, the frogs get one song and that song is just painful to my ears, Carol Channings irritating voice gets to sing once thankfully, and not to mention Jacimo's songs too are obnoxious and overly happy. The only song that I like, ironically also involves the beetle played by Gottfried, though Randy Crenshaw does the vocals for this song, and I guess you could qualify this as a villain song even though Beetle isn't established as a villain by this point. Now im probably being too harsh on this movie seeing how this movie was probably made for much younger kids in mind, but when it comes to Don Bluth, there are no dark turns in this film or anything made for adults and seeing how this is based off a Hans Christian Andersen novel thats saying something. This is just a film strictly made for kids. I'd recommend this movie only to children under the ages of maybe 8. But overall, and I'm going to sound extremely harsh to say this about a kids film, this is hands down one of the top ten worst movies I've ever seen in my life and next to Gilbert Gottfried, there is nothing I can see as good in this film.
Michael Edwards
Super Reviewer
Another favorite childhood from Don Bluth. I remember really loving this sweet little princess tale. I'm going to try and re watch it.
Jennifer D
Super Reviewer
Disney has spoiled us. Pixar, Dreamworks, and some others have since put out some great quality work as well. But there is still PLENTY of REALLY bad quality kids animation out there, and it was even worse back in the 90's. This is a prime example. The animation is terrible, the songs annoying, and the cast includes such winners as Charro and Carol Channing. Even by kids' movie standards, this movie is awful.
Martin Bishop
Super Reviewer
Thumbelina Quotes
There are no approved quotes yet for this movie.