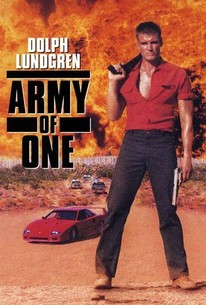 Army of One
1994, Action, 1h 40m
4 Reviews
2,500+ Ratings
Rate And Review
Movie Info
A Los Angeles police detective (George Segal) tracks a fugitive (Dolph Lundgren) who heads for the desert with a deputy sheriff (Kristian Alfonso) as hostage.
Audience Reviews for Army of One
"Army of One" is an actioner obviously made by people who truly love the genre. It was directed and produced by Vic Armstrong, stunt co-ordinator and second unit director on films like Total Recall, Starship Troopers and the two latest Bond-films (Tomorrow Never Dies and The World Is Not Enough). This man is responsible for some of the best action sequences ever made so he obviously knows what he's doing. The film was written by Steven Pressfield. He co-wrote Steven Seagal's first film, Above the Law, as well as Freejack. Based on this film, he might just be the perfect writer for tough action films. He successfully takes a basic concept (a man convicted of a murder he didn't commit sets out to find the true killers and get his revenge) and elevates it above similar films with his characters, scenes and dialogue. He takes the film and it's subject matter with just the right dose of self-irony but never lets it become a parody. The dialogue flows nicely and occasionally there are some truly classic lines (for example, Alfonso: "You're not a very nice person. You've hurt several people." Lundgren: "I never said I was running for pope"). This is quite a bit smarter than your average actioner. As I said, the plot is formulaic (and fans like myself want an action film to have a formulaic plot), but the characters and dialogue are interesting. Dolph Lundgren has the right stuff for an action hero. He's got the looks and the voice and he knows his way around action scenes. But it's George Segal and Beau Starr as the nagging duo, who really steal the show. Of course, there's the beautiful woman (Kristian Alfonso) as Lundgren's sidekick but they don't portray her as a helpless victim. Instead, she's a cop and more than able to take care of herself. Luckily, she does still wear tight jeans (Lundgren even notices this and teases her about it!) and there's the obligatory love scene. The scene where Lundgren and Alfonso check in a hotel is a classic! Alfonso immediately takes a shower and even asks if she has enough time to wash her panties(!). Alfonso uses a body double who turns around and around for the camera to the extent that the scene is almost comical. This scene is so gratuitous that it's hard not to like it. Because the film shows so much class in other scenes, it becomes clear that this scene isn't just here to fill time and show T&A. It's here because an action movie like this _always_ has gratuitous nudity. It's one of the trademarks of this masculine genre and if you love the genre, you will include a scene like this. All this is nice and well but what really counts is the action. And the action here is absolutely breathtaking! The action-scenes are choreographed so beautifully that I'm still impressed while watching them although I've seen the film for over 30 times. First, there's a major shoot-out during which Lundgren kills probably over 30 guys using his fists, a shotgun and two handguns (this ain't John Woo and it doesn't really try to be but the fans of his style will probably still like this). When he runs out of bullets, he just picks up another gun from the floor. Once again, this scene is _not_ a parody but it _is_ so over-the-top that it obviously isn't meant to be taken too seriously. Anyway, there are some great stunts here and Armstrong has directed the scene flawlessly. All this amounts to one of the coolest shoot-outs in recent history and one which has since been copied in countless b-actioners. Then there's the car chase with a red Ferrari and a black Lamborghini. Phenomenal! The score by Joel Goldsmith is brilliant. There's a strong theme, atmospheric background music for the opening scenes and really energetic music during the action scenes. Also the cinematography by Daniel L. Turrett works well. And even the acting is pretty good. As I said, Dolph Lundgren makes a good hero, Alfonso has the looks and Segal and Starr are responsible for the film's class and laughs (there aren't that many laughs in the film but when there are, they work). "Army of One" is a film which might seem like just another action movie but as a true fan of the genre, I recognize when the director is just filming something for money and when he's passionate about his work. And this is clearly a film made with passion for the genre. This isn't "a story that needs to be told" nor is this anything original or groundbreaking as far as the story goes but this is definitely one of the best action films made in the 90s and a must-see for fans of the genre. I can't recommend this highly enough.

<i>"You can open the safe with your balls or without 'em."</i> <p> For fervent action buffs, <i>Joshua Tree</i> (also known as <i>Army of One</i>) is a definite must-see - it stars action icon Dolph Lundgren, and it's directed by legendary stunt coordinator Vic Armstrong. It's a breathless exercise in hardcore action violence, and it moves at such an exhilarating pace that its stupidity and conventionality can be easily overlooked for the sake of entertainment. <p> In <i>Joshua Tree</i>, the Dolphster plays former race car driver Wellman Santee. With his racing days long behind him, Santee's livelihood is now transporting exotic stolen cars. During a run-in with the police, however, his partner (Foree) is killed along with a highway police officer in a shootout, and Santee is framed for the policeman's murder. But while being transferred to prison, Santee escapes. He abducts a young woman named Rita (Alfonso), unaware that his hostage is actually a deputy sheriff. What ensues is a variety of action sequences as Santee struggles to clear his name. <p> Logic is disposed of fairly quickly into this feature (as is any sense of originality). For instance Rita looks surprisingly calm considering she has been kidnapped. She's also given endless opportunities to escape or turn the tables on her abductor, but she rarely capitalises on these opportunities. There's also the fact that police officers are unable to shoot properly (despite, you know, being <i>trained</i> to use firearms). During an encounter with Chinese gangsters at one stage in the film, cliché after cliché is doled out - the gangsters are incompetent shooters while Santee is a perfect marksman, and guns even run out of bullets at the most convenient of times. Stupidity really kicks in when the climax comes around. Said climax features a series of brutal hand-to-hand combat battles, but the combatants never succumb to any serious harm despite being pounded with fists and inanimate objects continuously. Some of the protagonists are shot too, but bullets don't seem to faze them. However, as these things are virtually unwritten requirements for action films of the '80s and '90s, they're somewhat forgivable. <p> <i>Joshua Tree</i> was written by Steve Pressfield, who had previously penned the Steven Seagal vehicle <i>Above the Law</i>. Pressfield takes a formulaic tale of dirty cops and a man out for revenge, and constructs a fairly involving narrative. The trajectory of the plotline is the very definition of predictability, but it's the action and the decent dialogue that hold our interest. Plus, we've come here to see the Dolphster kicking some butt...and in this respect, it delivers <b>in spades</b>! Another unwritten law for action films is one-liners - since a lot of actioners are hilariously ridiculous and tongue-in-cheek, humour is often employed to match the tone. Screenwriter Pressfield delivers in this aspect too. <p> With renowned stuntman and action director Vic Armstrong at the helm (a man who handled the stunts for the Indiana Jones films, a lot of the James Bond films, <i>Starship Troopers, Patriot Games</i> and <i>Universal Soldier</i>, just to name a few), one can expect <i>Joshua Tree</i> to deliver oodles of satisfying action, which it does! Armstrong delivers breathtaking, over-the-top action set-pieces, ranging from a John Woo-esque shootout in a warehouse to a high-octane car chase featuring a Ferrari and a Lamborghini. Blood squibs explode left, right and centre...this is an unapologetic R-rated action film. To top everything off, Joel Goldsmith has provided a terrific score - it features atmospheric background music for the quiet sections, and chest-thumping music for the action. But the editing is occasionally <i>very</i> choppy, and there are a number of technical faults in general. <p> Due to the excessive violence of Armstrong's directorial debut, the censors went bonkers and the film was edited down for a number of countries (like Britain, where it still received an '18' rating even after the graphic violence was toned down). Bizarrely, three different endings exist for this flick. Unfortunately (as of 2009), the version of the film containing the best ending (which wraps up everything) is yet to be released on any format (be it DVD or Blu-ray). <p> Dolph Lundgren earned his chops as an action star after his appearance in <i>Rocky IV</i> opposite Sylvester Stallone. Although Lundgren never truly acts much during the film (he merely says lines instead of meaning them), he's perfect for the role of Santee - he has the physique of an action hero, and he knows his way around an action sequence. Best of all, he's competent enough to hold our interest. Alongside the Dolphster is the duo of George Segal and Beau Starr as the main villains of the picture. It's easy to hate these guys, which makes Santee's plight easier to sympathise with. And as the trademark woman of the picture with the perfect body, there's Kristian Alfonso. Naturally, her character gets naked at one point (laughably gratuitous) and she ends up becoming the Dolphster's love interest. <p> At the end of the day, <i>Joshua Tree</i> is just a disposable '90s actioner that remains essential viewing for genre aficionados. This ain't anything groundbreaking, but it's definitely an entertaining distraction best enjoyed when the thinking side of your brain craves a rest.

Cool action-packed film with Dolph Lundgren as a wrongly accused man who escapes from prison to exact revenge on the man who put him here.

Van damn in his reguall part of a innocent man on the run from evil..
See Details