Tarzan of the Apes
(1918)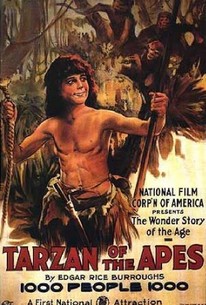 AUDIENCE SCORE
Critic Consensus: No consensus yet.
Tarzan of the Apes Photos
Movie Info
Elmo Lincoln became the first actor to play Edgar Rice Burrough's "Lord of the Jungle" on the screen when he replaced the now-forgotten Winslow Wilson in the 1918 8-reeler Tarzan of the Apes. During the first portion of the film, Tarzan -- aka Lord Greystoke -- is portrayed by juvenile actor Gordon Griffith. The earlier reels detail the deaths of Greystoke's British parents in the jungle, and how the boy was raised by female ape Kala. Years pass: a rescue party, including high-born Jane Porter (Enid Markey), arrives in the jungle, in search of the long-lost Lord Greystoke. When Jane gets lost in the foliage, it is Tarzan who rescues her from predatory beasts. He then tries to put the make on Jane, as any good ape would, whereupon she stops him with the gentle remonstration "Tarzan is a man, and men do not force their attentions upon women." His aristocratic breeding thus invoked, Tarzan is at last tamed. By any standards, Elmo Lincoln was an awful actor; in addition, he looked about twenty years too old and fifty pounds too fat for the role of Tarzan. Nonetheless, he had great presence, and Tarzan of the Apes made him a star (at least until the talkies came around). Though crudely directed, the film has a lot of energy, especially in the famous scene wherein Lincoln actually kills an attacking lion with his knife.
Critic Reviews for Tarzan of the Apes
All Critics (3) | Fresh (3) | Rotten (0)
remains far truer to the text than most subsequent film versions
The first Tarzan put to film though creaky, is an amazing curio.
Creaky, sure, but this is historical Tarzaniana with Elmo Lincoln as the screen's first (silent) vine swinger.
September 30, 2006 | Rating: 3/5
Audience Reviews for Tarzan of the Apes
Elmo Lincoln? Edgar Rice Burroughs first got his story "Tarzan" published as a magazine series in 1912. It was turned into a novel in 1914. And the first film feature of the "noble savage", a popular notion widely entertained back then, came 4 years later. Having grown up with the loin-clothed wonder always around it's kinda difficult imagining a world w/o him, yeah? Otto Elmo Linkenhelt was a big, brawny aspiring actor from cornfed Indiana in the fledgling Hollywood of yore but broke away from the pack, became a star, behind his sometimes feral performance in this, the first Tarzan filmed, notable for following Burroughs scenarios better than those that followed. Lusty adventure.
Kevin M. Williams
Super Reviewer
Tarzan of the Apes Quotes
There are no approved quotes yet for this movie.