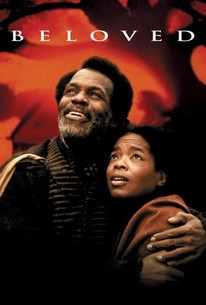 Beloved
1998, History/Drama, 2h 52m
127 Reviews
10,000+ Ratings
What to know
Critics Consensus
A powerful, emotional and successful film adaptation of the original novel. Read critic reviews
Where to watch
Rent/buy
Rent/buy
Rent/buy
Rate And Review
Movie Info
In 1873 Ohio, Sethe (Oprah Winfrey) is a mother of three haunted by her horrific slavery past and her desperate actions for freedom. As a result, Sethe's home is haunted by a furious poltergeist, which drives away her two sons. Sethe and her daughter (Kimberly Elise) endure living with the spirit for 10 more years, until an old friend, Paul D. Garner (Danny Glover), arrives to run it out. After Garner moves in, a strange woman named Beloved (Thandie Newton) enters their lives, causing turmoil.
Rating: R

Genre: History, Drama

Original Language: English

Director: Jonathan Demme

Producer: Jonathan Demme, Kate Forte, Gary Goetzman, Edward Saxon, Oprah Winfrey

Writer: Toni Morrison, Akosua Busia, Richard LaGravenese, Adam Brooks

Release Date (Theaters): wide

Release Date (Streaming):

Box Office (Gross USA): $22.8M

Runtime:

Distributor: Buena Vista Pictures

Sound Mix: SDDS, Dolby Digital, DTS, Surround
News & Interviews for Beloved
Audience Reviews for Beloved
This could have been much shorter, and I think it would've been better if it had been.

After something of a lengthy hiatus, Jonathan Demme made a booming comeback in 1998 by paying homage to both of his dramatic claims to fame, by simultaneously dealing with prejudice and illness like he did in "Philadelphia", and with mental insanity like he did in "The Silence of the Lambs". Actually, maybe the people in this film aren't too crazy for believing in ghosts, as Oprah Winfrey has, in real life, certainly been possessed with the most evil of demons: ...liberalism. Seriously though, Winfrey and Danny Glover are together again in what is basically the spin-off to "The Color Purple" that we've all been waiting for, as we wanted more Winfrey, and, you know, felt that "The Color Purple" just wasn't long enough. I joke, but this is pretty much a passion project for Steven Spielberg, even though Spielberg wasn't even involved in this project, because it's pretty much the crossover between "The Color Purple" and "Poltergeist" that, come on, was totally expected, you know. No, this is actually the crossover between "The Color Purple" and "Ghost", because now that Whoopi Goldberg has been adequately harassed, it's time for Patrick Swayze to take out the rest of the cast of. Man, that would be one seriously lame twist for this film to come to after a whopping three hours of well, being pretty good. I'd say that this is a pretty satisfying sequel to apparently everything that came out between the mid-'80s and the mid-'90s, although it would be more so if it was tighter, in a number of ways. If this effort's runtime seems to be rather questionable for subject matter of this type, that's because it, at just shy of three hours, is, and yet, at the same time, it's not long enough, as there are some distinct lapses in expository depth that Akosua Busia's, Richard LaGravenese's and Adam Brooks' script neglects to compensate for all of its bloating of repetitious filler, if not overwrought material. Although developmental shortcomings that leave many of the chapters in this narrative to jar stand as a big issue, bloating is as big a problem as any, getting so carried away with flashback segments, each characters' personal struggles, and other plot aspects that it can't seem to get a consistent grip on focus any more easily than it can on the themes of this drama. The film alternates between being a study on former slaves seeking new life with the horrors of the past at their backs, and being a supernatural horror-melodrama, and although both themes are thoroughly intriguing, the overambitious and overwrought exploration of them both leads to tonal inconsistencies, some of which are glaring in their seeing storytelling jar between dramatic steadiness and horrific intensity, both of which keep consistent in being backed by some lapses in subtlety. The script and Jonathan Demme's direction place a great deal of attention into somewhat graphic, if not disturbing happenings and imagery which is respectable in its audacity, but all too often too gratuitous for the good of subtlety to tone, which might be able to compensate if it wasn't so chilled so often. More than anything, Demme places a high attention into atmosphere and limp, disjointed storytelling which often borders on abstractionist, and frequently dulls things down, due to there being only so much biting material for the thoughtful storytelling to soak up throughout the final product's three-hour course. No matter how compelling this film is, it could have been so much more if Demme's heart was more firmly secured in the right place, and if there wasn't such a lack of realization to Demme's already questionable vision, thus, as things stand, the final product stands as an uneven, well, mess. It's almost by some miracle that the film ultimately rewards, but the fact of the matter is that, with patience, you'd be hard-pressed to not be compelled by this somewhat flimsy, but promising drama. A period piece study on the struggles of black men and women during and following slavery, a melodramatic portrait on standing by family, and, just for good measure, a supernatural thriller, this film's story is way to focally and thematically overblown to handle all that tightly and evenly, especially with this film's experimentalism, but, so help me, it's daringly original, as well as compelling in its considerable dramatic and thematic value. Toni Morrison's novel carries a lot of potential to be made into a gripping screenplay, and sure enough, although Akosua Busia's, Richard LaGravenese's and Adam Brooks' script, with its mightily uneven structure, plays a big part in holding the film back, its gutsy, if sometimes gratuitous attention to chilling detail with edgy characterization, shocking themes and intentionally loose ends for viewers to ponder upon makes the film a commendable artistic expression, even with its writing style. As for Jonathan Demme's directorial style, even though it too has a lot to criticize, it delivers in its realized orchestration of, if nothing else, pseudo-gothic cinematography by Tak Fujimoto, and haunting score work by Rachel Portman, which is both beautiful and tonally effective. The visual and musical style do a lot to define the substance of Demme's direction, whose impact is actually held back by an ambition to pursue near-abstractionist experimentation, but is very rarely, if ever lost under the pressure of artistic bloating and slow spells, thanks to an inspired edge to dramatic meditativeness and striking imagery that, upon meeting realization, hits hard. When Demme's direction gets to be questionable, the reward value of the film is seriously threatened, and when it works, the horror aspects are downright terrifying, and the drama is powerful enough to secure reward value, with no small aid from the performances which truly stand out: the onscreen ones. Everyone delivers, whether it be Kimberly Elise as a young woman who comes to take matters into her own hands for the sake of her family, or Danny Glover as a good-hearted and uneducated man who comes to find shocking revelations regarding a place he thought was of refuge, while standouts include the amazingly convincing Thandie Newton as a handicapped wanderer who comes to a loving family, with dark secrets, and the relatively briefly used Lisa Gay Hamilton who appears in flashbacks as a broken slave woman who struggles to escape agony for the sake of her welfare as a woman and a mother, and eventually grows into an unstable woman wracked with guilt who leading lady Oprah Winfrey portrays impeccably. Winfrey is a revelation in her emotionally charged and harrowingly layered portrayal of a woman who slowly, but surely, breaks under the overwhelming pressure of pain which has followed her throughout her life, but hers is not the only nuanced performance, for there is plenty of subtle inspiration found on and off the screen to transcend the shortcomings with intelligence and resonance. When the curse is lifted, uneven focus deriving from uneven pacing and overwrought plot structuring, in addition to an unevenness to what tonal bite there is in questionably, if not dully experimental storytelling, hold the final product back, and even threaten reward value that is ultimately firmly secured by original and engrossing subject matter's being done enough justice by generally intelligently edgy writing, beautiful aesthetic style, resonant direction, and across-the-board powerful and nuanced performances to make Jonathan Demme's "Beloved" ultimately gripping as an experimental, chilling, moving and altogether harrowing exploration of family and facing demons, both literal and symbolic. 3/5 - Good

I've always been fond of mixing horror with other genres, especially when these genres are pushed to their limit. This and more make "Beloved" one of my absolute favorites of all time: heavy drama, deep character study and, Jeez, a freakin' nightmare. If you haven't read the Morrison novel and watch it without knowing a thing about it, it'll compromise your sleep. I never understood why it wasn't a hit, but what the heck, taste can be an elusive thing.

Made with conviction, passion, labor and the very best of intentions, <i>Beloved</i> is a dense, complex, hard going but rewarding film based on a Pulitzer Prize winning novel. Oprah Winfrey may have a limited range but she gives it all 100%, and Kimberley Elise is especially excellent. The fantastical elements remain convincing by virtue of their being presented as part of the everyday, whilst the issue of slavery is shown for all its horror by being so personally entwined in the core group of characters. The occasionally over-played scene (Thandie Newton lurches from brilliant to unintentionally funny, often in the same scene) and the confusing first section stop it from becoming the masterpiece that Demme and Winfrey so clearly strived for, but this remains a massively undervalued and underrated film, worthy of re-investigation.
See Details