Heat
(1995)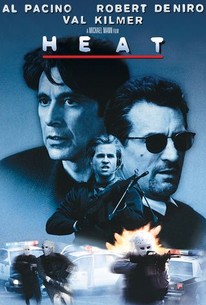 TOMATOMETER
AUDIENCE SCORE
Critic Consensus: Though Al Pacino and Robert De Niro share but a handful of screen minutes together, Heat is an engrossing crime drama that draws compelling performances from its stars -- and confirms Michael Mann's mastery of the genre.
Movie Info
A successful career criminal considers getting out of the business after one last score, while an obsessive cop desperately tries to put him behind bars in this intelligent thriller written and directed by Michael Mann. Neil McCauley (Robert De Niro) is a thief who specializes in big, risky jobs, such as banks and armored cars. He's very good at what he does; he's bright, methodical, and has honed his skills as a thief at the expense of his personal life, vowing never to get involved in a relationship from which he couldn't walk away in 30 seconds. Vincent Hanna (Al Pacino) is an L.A.P.D. detective determined to catch McCauley, but while McCauley's personal code has forced him to do without a wife and children, Hanna's dedication has made a wreck of the home he's tried to have; he's been divorced twice, he's all but a stranger to his third wife, and he has no idea how to reach out to his troubled step-daughter. While McCauley has enough money to retire and is planning to move to New Zealand, he loves the thrill of robbery as much as the profit, and is blocking out plans for one more job; meanwhile, he's met a woman, Eady (Amy Brenneman), whom he's not so sure he can walk away from. The supporting cast includes Val Kilmer as Chris, one of McCauley's partners; Ashley Judd as his wife Charlene; Jon Voight as Nate; Hank Azaria as Alan Marciano; and Henry Rollins as Hugh, who is beaten up by Hanna. ~ Mark Deming, Rovi
People Who Like this movie also like
News & Interviews for Heat
Audience Reviews for Heat
Zounds! A meeting of the Knights Of The Round Table Of Method Actors (Dustin Hoffman must've been busy)! Only Michael Mann (writer/director) discovered that putting them all in the same room is not enough - they all need something to do. Fortunately he's enough script for DeNiro and Pacino. Nobody else though. Luckily he's got a gunfight planned, so everybody gets a piece of that. And that's probably good enough.
Kevin M. Williams
Super Reviewer
An obsessive robbery homicide detective is locked in a battle of wits with an ingenious crew of professional criminals looking to score a multi-million dollar bank heist under his very nose. When you see a cast list like this one you know you're in for something special, but Heat is not just special; it's an absolute masterclass. It's a fairly common formula in this day and age, showing cop and criminal as two sides of the same coin, but the way Mann effortlessly flits between both sets of superbly realised characters has never been bettered and paved the way for the modern cop drama including everything from Infernal Affairs to The Dark Knight. The performances are all, of course, top notch and every aspect of the film that surrounds them is faultlessly engineered to create a near perfect heist movie. The bank shoot out that turns the streets of L.A. into a war zone is astonishing in itself and candidate for best action sequence ever filmed. The soundtrack has maybe dated a little in places and some of the domestic drama a little heavy handed compared to the levels of sophistication shown in telling the life stories of these men born of violence, but it is all interwoven into something that exceeds the sum of its parts. A modern classic.
This is basically Michael Mann's magnum opus. It's a more fleshed out and richer version of his TV production L.A. Takedown concerning two groups of people and their leaders: one being super slick professional thieves, and the other being highly determined and driven police officers. It takes the standard good versus evil story, ramps it up to the max, and throws in tons and tons of character development, atmosphere, and some of the most well done, realistic, and accurate gun play in motion picture history. This is all very rich, complex, and very compelling. It's a film both for those who like to think, and those who love a solid crime drama. It also has the great selling point of being the first film to feature De Niro Pacino sharing screentime together. Granted, this selling point is dated, but compared to Righteous Kill (which has them on screen together longer), this one really gets it right and doesn't overdo the joy of seeing them face off. The cast are firing on all cylinders here, making their characters, good or bad, interesting, sympathetic, and worth watching. Honestly, I'm really torn between which group I'd rather root for more, which I think is a great sign of brilliant work. Nothing is totally black and white, and each side has their pros and cons. Mann has encyclopedic knowledge of crime, criminals, cops, and police procedure, and it shows. There's a high level of attention to detail, and it really makes one appreciate the time and care that went into all this. But of course, at nearly three hours, and with a fairly leisurely pace, this could prove to be too slow and boring for some. Honestly, I'm really not bothered by it, Sure, my patience sometimes begins to waver during the third act, but I have seen this several times, so maybe it's just a personal issue, and a bit of burn out. Mann's trademark mood and atmosphere building tools are pitch perfect here, with some of the best and most expressive lighting and camera placement ever seen in a crime drama, or other type of film for that matter. And of course, one of the other main selling points: the superb action scenes. Granted, the movie isn't wall to wall action, but that's not the point. In fact, a lot of the film is made up of lengthy, quiet scenes with tons of yakking, and even more scenes with no talking, just letting the mood wash over the viewer and draw them into this hypnotic world. However, when this film delivers the action goods, it really delivers them, with the gunfights being intense, wild, loud, and jarring...like they're supposed to be. Just see this film already. There's only so many ways I can think of to call this brilliant before it becomes redundant.
Chris Weber
Super Reviewer
Heat Quotes
| | |
| --- | --- |
| Neil McCauley: | Look at me. |
| | |
| --- | --- |
| Vincent Hanna: | I say what I mean, and I do what I say. |
| Vincent Hanna: | I say what I mean and I do what I say. |
| | |
| --- | --- |
| Neil McCauley: | Don't let yourself get attached to anything you are not willing to walk out on in 30 seconds flat if you feel the heat around the corner |
| Neil McCauley: | Don't let yourself get attached to anything you are not willing to walk out on in 30 seconds flat if you feel the heat around the corner. |
| | |
| --- | --- |
| Neil McCauley: | I told you I never going back. |
| Vincent Hanna: | Because she has a great ass and you got your head all the up it. |
| Neil McCauley: | There is a flip side to that coin. What if you do got me boxed in and I gotta put you down? Cause no matter what, you will not get in my way. We've been face to face, yeah. But I will not hesitate. Not for a second. |