Broken Arrow
(1996)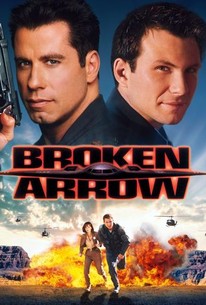 Movie Info
Hong Kong director John Woo's second U.S. film (his first was Hard Target) delivers a number of exciting action sequences but is let down by a credibility-straining plot. John Travolta plays Vic Deakins, an Air Force pilot on what is supposed to be a routine night flight mission with his co-pilot, the younger Riley Hale (Christian Slater), whom Deakins constantly kids for lacking the "will to win." Deakins is actually a traitor who crashlands their Stealth Bomber in Death Valley so that he can steal two nuclear warheads onboard and sell them to terrorists who plan to blackmail the government. Deakins meets up with his cohorts, who have been waiting in the park, while Hale survives and teams up with a young, attractive park ranger (Samantha Mathis) to foil Deakins's plans. Plenty of action ensues, with car chases, collapsing mine shafts, fights on burning trains, and even the underground detonation of a nuclear device. Despite the script's implausibilities and inconsistencies, Woo amply displays the expertise with action sequences and man-to-man conflict that has made his Hong Kong films cult favorites. ~ Don Kaye, Rovi
People Who Like this movie also like
Critic Reviews for Broken Arrow
Audience Reviews for Broken Arrow
½
Decent actioner that is tongue in cheek amid its seriousness, Broken Arrow is thrilling, but somewhat lacks something truly memorable to make this film truly worth watching. I enjoyed it, but this is far from John Woo's finest hour. I guess for a mindless action yarn it does the trick, but to those wanting a bit more substance to their action, look elsewhere. Broken Arrow looks dated, and has its moments, but Woo has directed far better films than this. The film feels like it relies too much on bits and pieces from other genre films to create its plot, and in doing so, lacks an original punch that could have made this film truly good. The film is not terrible, but there is nothing good here either. I wanted this one to be much better than the finished film, but I guess for mindless popcorn thrills, it does what it's supposed to do, but it should have been much better as well. John Woo can direct an exciting film; in fact his style is energetic, kinetic and top notch when it needs to be. With his masterpiece, The Killer he proved that, as well as with Face Off. Broken Arrow is fun, but I wanted the film to really be more. For the traditional action buff, this will certainly be a good time, but to those, wanting some original aspect to their story, you'll be a tad disappointed. For what it is, Broken Arrow is a decent action film worth checking out for the diehard action buff, and it's a mindless piece of entertainment that does the job, but it does fall short of its potential due to the fact that the plot and characters are somewhat clichéd. However, Broken Arrow is not the worst action film, yet it's not the best either, it's really an in between film, one that might divide genre fans.
One of the first US films for John Woo before he went on to make a whole load more using the same visual style everytime. The other noteable thing here is the curious combination of Travolta and Slater pairing off against each other. Two best buds in the USAF are flying a B-3 Stealth Bomber with a deadly payload of nukes on board. Spoiler alert! Travolta goes rogue and turns on Slater dumping the nukes for his band of bad guys to pickup. Their plan? to sell the nukes to the highest bidder of course, dastardly!. I remember when this came out it was deemed to be quite a slick action flick, hell I even went to the cinema to see it. This is the first time I've watched this since 1996 and I can firmly say it hasn't aged well. Yep its just your average explosion filled action thriller with your standard hero who saves the day and kills everyone with the aid of a feisty female sidekick. The bad guys are your regular bunch of strapping blokes who mindlessly obey Travolta's insane commands, the main henchman being newbie Howie Long (film career didn't last long). All these guys are trigger happy, often dumb and get killed in very obvious set pieces you can see coming a mile away. In fact the whole film is much like that really, it just looks like one of those special effects shows at Universal Studios where everything looks like a setup or an obvious set. There isn't really anything original in the whole film, the plot is standard issue, the bad guys are standard issue, all the important military/government official types are the standard issue grizzled old men, slimy cowards or nerds, dialog is hammy with all the regular dribble you'd expect to hear and its got lots of standard issue John Woo slow motion and face off camera angles. Not even Travolta's semi fun bad guy can bring this film back from the dull zone. This was his first real baddie role after his career took off with 'Pulp Fiction' so his performance was definitely fresh and quite new for the actor. Its just a shame he's done the same thing now for so many other films since. As for Slater, well he doesn't really fit the profile for a leading man action hero, he's clearly not the type, he's not bad per say, he's just clearly not that type of guy simple. Even with Travolta being all camp he still looks like he can kick Slater's ass all over. A terrific film title, intriguing cast and thumping film poster still can't alter the fact this film is dull dull dull. It doesn't even look that good really, there is one stunt where Long gets booted off a train going over a very high bridge which is pretty impressive, but that's totally it. The drab looking location doesn't really help either, its all yellow dusty desert terrain everywhzzzzzzzz. If anything can be called 'by the numbers' its this film right here, weak stuff.
Phil Hubbs
Super Reviewer
½
A US stealth bomber pilot steals its nuclear payload to hold the government to ransom with only his erstwhile comrade and a Park Ranger in a position to stop him. Yet another no-brainer from John Woo, Broken Arrow features every cliche from the Hollywood action playbook, including exploding helicopters aplenty, endless slow motion shoot outs and literally everything blows up in an enormous fireball (hell, one of them's even nuclear!) It features the machine gun toting hijackers providing the out of the frying pan into the fire into another frying pan scenarios of Die Hard and the runaway train finale of Speed, all set in some pretty desert locations and it all happens with digital clocks ominously counting down time after time after time. Christian Slater is likeable enough as the hero and Travolta is clearly enjoying himself as the grinning psychopath but there's little in the way of imagination or invention, it just preferring to stick to the formula with mechanical efficiency. Not exactly terrible, but there's also nothing here you won't have sat through during every other action blockbuster you've ever seen.
Broken Arrow Quotes
There are no approved quotes yet for this movie.