Les Visiteurs (The Visitors )
(1993)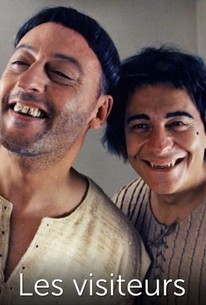 Les Visiteurs (The Visitors ) Photos
Movie Info
Fair farce about a medieval knight (Jean Reno) who is transported to 1990's France to undo a curse leveled on him because he killed his fiancée's father. Costarring Christian Clavier, who co-wrote the script with director Jean-Marie Poire.
Critic Reviews for Les Visiteurs (The Visitors )
Audience Reviews for Les Visiteurs (The Visitors )
French time-travel "comedy".
Marcus Woolcott
Super Reviewer
½
I didn't think this movie was very good at all. Outside of some laughs here and there and some decent performances from Christian Clavier and Valerie Lemercier. That's about it really, or perhaps I'm just a humorless bastard. The humor isn't particularly witty and they just sort depend on Hubert's and Jacque's awkwardness with adjusting to life in present times. So this premise is very derivative. It was far more entertaining in Thor when he arrived and started ordering people around. This is an entire movie based on that premise (though it could've worked on Thor), and it just isn't that funny at all. It's really American humor and it's not even funny American humor at that. I don't think that the movie was ever intended to be dumb but I felt dumb watching it. And as much as I enjoy Jean Reno, and he WAS playing the straight man here, he doesn't strike me as an actor who would be good at comedy. Maybe he is, and maybe this movie is just a bad example and doesn't show his flexibility as a comedic actor. Again, Christian Clavier was good and so was Valerie Lemercier but the fact of the matter is this movie isn't very good or funny or clever and you'll just feel dumb watching it, despite it not being a dumb movie per se. Then again I'm grading on a scale, the dumbest would be anything by Aaron Seltzer and Jason Friedberg.
Jesse Ortega
Super Reviewer
This quirky French comedy is pure absurdist fun and frothy as a milkshake, but with the queer interloping humor of the French. Though crude in many respects, it's still a cult classic because it goes where other films don't. It's certainly goofy, realistic based on the time it was set and the times of the two main characters, with the character of Beatrice being flighty and yet marginally stern. She is what holds the glue between the past and the present, and she is a true wife and mother, someone we can get behind and respect, which was an element the American remake rejected. Yes, this is a French original, which also led to a poor reception for its sequel, and utter chagrin at the remake. This film deserves to be set in France and take place in France, again an element the remake neglects. The people, the countryside, the warmth of the castle fires and the frigid temperatures of the castle dungeons all feel extremely real and kooky. The reason it was so big was the allure of a national film, a film of France, and this film does that by linking the rich heritage of an entire country and showing how much of the country as a whole has changed. The cast, who were all the same for both the sequel and the remake, are truly brilliant. Jean Reno (who would later become most famous for Leon the next year) is playfully a Dudley Do-right type of infantile schmuck, with a pretentious air as he is a rich man of the court. Christian Clavier is a strange sidekick, though crafty and politically sound, vying for independence with the help of a down and out floozy. The humor behind them converging with modern day technology wasn't exactly groundbreaking, but their attributes and small inconsistencies really endeared them to the audience, and made for some real laughs throughout. Whether chuckling over the ditzy hotel owner or the fate of the descendents, whose house was in a shambles by the end thanks to these two's actions, it was a sweet and bumpy kind of comedy.
Spencer S.
Super Reviewer
Les Visiteurs (The Visitors ) Quotes