The Clockmaker of St. Paul (L'horloger de Saint-Paul)
(1974)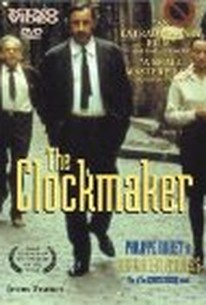 Movie Info
French film critic Bertrand Tavernier made his directorial debut in The Clockmaker. The title character, played by Tavernier's "alter ego" Philipe Noiret, is benumbed by the nihilistic activities of his son Sylvain Rougerie. Arrested on charges ranging from arson to murder, Rougerie offers the standard-issue explanation: the establishment is full of pigs who deserve to be "offed". Noiret must ask himself if his son's behavior is the result of stifling under the bourgeois lifestyle that Noiret has always championed. The Clockmaker is based on the Georges Simenon story L'Horlonger de Saint-Paul, which was also the French title of this film. ~ Hal Erickson, Rovi
Rating:
NR
Genre:
, ,
Directed By:
Written By:
In Theaters:
On DVD:
Runtime:
Studio:
Joseph Green Pictures Inc.
Critic Reviews for The Clockmaker of St. Paul (L'horloger de Saint-Paul)
Audience Reviews for The Clockmaker of St. Paul (L'horloger de Saint-Paul)
I came upon this film from a Siskel & Ebert special in which they reviewed overlooked movies from the 1970s, and while I found the performances to be strong, the story seemed more like a real-life event instead of something cinematic. For instance, the titular clockmaker does not attempt to talk to his son after he has killed a man, instead preferring to let the police arrest him before approaching his son. In a film, he would have rushed to his son in a heartbeat because that is what a movie requires of its characters. Instead, we have a very ponderous film that has the clockmaker glumly walking through the streets while occasionally talking with the police chief or someone tenuously connected to his son. You might enjoy the film more than I did, but then again that's the great thing about art, its subjectivity.
Luke W
½
[font=Century Gothic]In "The Clockmaker", Michel Descombes(Philippe Noiret) is a widowed clockmaker living in Lyons. One morning he is informed by Inspector Guilboud(Jean Rochefort) that his grown son, Bernard, is suspected along with a woman named Liliane of killing a factory owner, Razon, the previous night. They are now the subjects of an intense manhunt. Meanwhile, Descombes has little idea as to why his son would commit this act and can only hope that his son is not killed by the police. At the behest of a journalist, he broadcasts a radio appeal to his son to turn himself in.[/font] [font=Century Gothic]"The Clockmaker" is a straightforward and simple story, told mostly from the father's point of view, thus highlighting the difference in generations. The movie is about the effect of crime on family members and other people on the periphery. It also serves as an early critique of media manipulation. All of which is held together by a quietly powerful performance by Philippe Noiret.[/font]
The Clockmaker of St. Paul (L'horloger de Saint-Paul) Quotes
There are no approved quotes yet for this movie.