I'll Be Home for Christmas
(1998)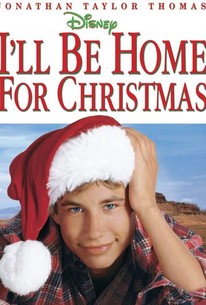 I'll Be Home for Christmas Photos
Movie Info
Jake Wilkinson is a self-absorbed college student who, just days before Christmas, awakens to find himself stranded in the middle of the California desert, wearing a Santa suit and a white beard glued to his face. The butt of a payback by the football team, who thinks he double-crossed them by not providing the correct answers to a finals test, Jake has to find a way to get to New York by 6 p.m. on Christmas Eve and catch up with his girlfriend, Allie, who is on the road with school stud Eddie, or risk forfeiting the vintage Porsche his father promised if his son comes home for the holidays. As Jake desperately hitchhikes his way east, the people he meets unwittingly set into motion a comedy of errors as they look to Santa for help and advice.
People Who Like this movie also like
Critic Reviews for I'll Be Home for Christmas
Audience Reviews for I'll Be Home for Christmas
½
"Somewhere between L.A. and N.Y. Jake found the meaning of Christmas" I'll Be Home For Christmas is a cliche family Christmas movie. The major theme is that of most, if not all Christmas movies; it's not about where you spend it or how you spend it or what you get, it's about the family you share it with. This one gets that message across with a cross country trip along the same lines as Planes, Trains & Automobiles.  Jake is going to school in California and hasn't been home for Christmas in a few years. His father wants him there though, so he tells Jake that if he's there by six o'clock on Christmas Eve, he'll give Jake the '57 Porsche. This is enough to make Jake go, but when some fellow students leave him dressed like Santa and stranded in the desert, he misses his flight and must find another way to make it to New York. As much as I dislike the movie, I'm not about to completely blast it like I probably should. Christmas movies can't be judged on the same level as other films. Most of them suck and by comparison to a lot of others, I'll Be Home For Christmas really isn't all that bad. Okay, yes it is, but it should at least entertain the little ones and send them off with a decent enough message; family is more important then material objects.
Melvin White
Super Reviewer
Poor with some elements added in, but if you were to take those elements out, then it would be a great film. It was well worth watching, and I recommend it! It's just fun for the whole family to watch during the holidays!
believe it or not, thats not the closest JTT's lips have been to big fuzzy ball
Coxxie Mild Sauce
Super Reviewer
I'll Be Home for Christmas Quotes
There are no approved quotes yet for this movie.