The Witches (The Devil's Own)
(1966)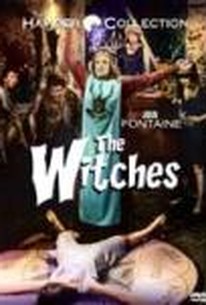 The Witches (The Devil's Own) Photos
Movie Info
This film was a pet project of Joan Fontaine, based on a novel by Peter Curtis. It was her last feature film. Fontaine stars as teacher Gwen Mayfield, who is in charge of a missionary school in Africa. A witch doctor puts a curse on her, and she has a nervous breakdown. Returning to England, she takes a job running a small rural school. In the village, there is an active voodoo cult. They have targeted a young woman named Linda (Ingrid Brett), whom they plan to offer as a virgin sacrifice. The cult members are led by journalist Stephanie Bax (Kay Walsh), whom Mayfield discovers is the head witch. Mayfield's student Ronnie Dowsett (Martin Stephens) is being harassed by the cult to keep him from protecting Linda, his girlfriend. This British production was titled The Devil's Own in the U.S. ~ Michael Betzold, Rovi
Critic Reviews for The Witches (The Devil's Own)
All Critics (6) | Fresh (3) | Rotten (3) | DVD (1)
After a crude opening sequence of poor Joan Fontaine being frightened out of her wits by a prancing witch-doctor in an African hut, this very enjoyable thriller settles down more calmly to make good use of Nigel Kneale's highly literate script.
Boy, is this dull.
August 27, 2003 | Rating: 2/5
Audience Reviews for The Witches (The Devil's Own)
½
After watching a few disappointing additions to the Hammer canon it's nice to see a film that pretty much works and if not an all out horror per se it's still a good little suspense film. The acting is very good here across the board (although McCowen looks a little unsure sometimes) and the film boasts a very good cast for a Hammer film with Walsh and Rossiter especially good. However the film works mostly due to Fontaine's performance. As in 'Rebecca' and 'Suspicion' Fontaine brings a nervous energy to the role that works really well and if the finale is a little bit of an anti-climax it's certainly not down to her good work. The film is an odd one amongst a lot of Hammer films as there is no gore and what supernatural activity there is is suggestive. In fact I found myself thinking that this would make a good companion to 'The Wicker Man' whilst watching. It's not in the same league as that film but it's worth checking out if you're looking for the best of Hammer in the 60's.
David Sayers
Super Reviewer
½
Were it not for the laughably dreadful climax, which ranks among the worst of any film I've ever seen, this otherwise cracking little Hammer horror would have made a fine companion piece to their other, excellent, occult thriller "The Devil Rides Out", made the following year. The story concerns a teacher, convalescing from a nervous breakdown, who stumbles upon a coven of witches in a sleepy English village. In such films as "Suspicion","Jane Eyre" and "Rebecca" nobody did cringing vulnerability better than Joan Fontaine, and she's perfectly cast as the lead here.
The Witches (The Devil's Own) Quotes
There are no approved quotes yet for this movie.