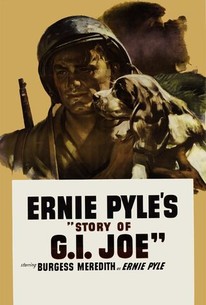 G.I. Joe
1945, War, 1h 49m
13 Reviews
500+ Ratings
Rate And Review
Movie Info
During World War II, American journalist Ernie Pyle (Burgess Meredith) goes abroad to write about the arduous experiences of stalwart members of the U.S. Army. In Africa and Europe, Pyle encounters brave soldiers who have put their lives in danger in order to defeat Hitler and Mussolini, including Lt. Bill Walker (Robert Mitchum), who is working hard to instill his men with a positive outlook, and Sgt. Steve Warnicki (Freddie Steele), whose young child is growing up back in America.
Audience Reviews for G.I. Joe
The Story of G.I. Joe stands as a stirring tribute to those average soldiers who struggled to survive on the front lines of WWII. Set primarily in Italy, the film follows a band of infantrymen and an ever-present war correspondent, Ernie Pyle (Burgess Meredith). Robert Mitchum shines in a gritty, oscar nominated performance as Captain Bill Walker. As with other war films of the time, this one's laced with more than a bit of Hollywood sentimentality and a healthy dose of cheeseyness but if ever a picture deserved to be sentimental and sappy this is the one. When it comes to classic war films, The Story of G.I. Joe ranks as one of the best.
See Details