Second Skin
(2000)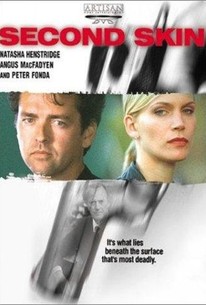 Movie Info
A man trying to turn a new page in his life unexpectedly finds the lady in his life skimming through some previous chapters in this crime drama. Sam Kane (Angus MacFadyen) is a man trying to run away from his past; he's moved to a small town and opened a book shop in hopes of starting his life over again. One day, a beautiful woman with the improbable name of Crystall Ball (Natasha Henstridge) is struck by a car outside the shop, and Sam comes to her rescue. Sam and Crystal get to know each other, and they quickly fall in love, but he soon discovers she has connections to a hair-triggered criminal from Ohio who has come looking for her, which leads to some unpleasant revelations about his own past deeds. Second Skin also features Peter Fonda and Liam Waite.
Rating:
R
Genre:
,
Directed By:
In Theaters:
On DVD:
Runtime:
Studio:
Artisan Entertainment
Critic Reviews for Second Skin
All Critics (6) | Fresh (1) | Rotten (5) | DVD (2)
The film never generates any suspense, and the twists not only go in expected directions, but pop up in all the expected places.
I recommend the film inasmuch as one can dime-store fiction/straight-to-video rabble.

Recommended... only for masochists.


Audience Reviews for Second Skin
A Neo-Noir that suffers from such lazy writing that it borders on complete incompetence. The script is straightforward and dull with only an occasional clever line of dialog here and there ("I may not remember yesterday, but I wasn't born yesterday"), making it a very uninvolving and slow picture to sit through. Add the fact that Henstridge can't act and Macfadyen, who can, doesn't in this picture either. The twist ending would have been clever if it wasn't painfully obvious (again, due to lazy writing). Peter Fonda is the only thing good about this film, but even fans of the Easy Rider should skip this... and to think this is from Darrell Roodt, the Oscar-nominated director of "Yesterday"!
David Schwenker
½
just an ok movie, but well worth the watch just for the surprise twist at the end. that?s all I?m saying.
laurie e
The film fails primarily from bland and uninspired acting and a bad script. For a thriller it is not very exciting, very slow moving throughout the film. Lethargically directed.
James Higgins
Second Skin Quotes
There are no approved quotes yet for this movie.