Friends Forever
(2001)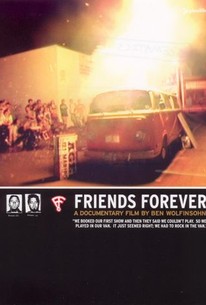 AUDIENCE SCORE
Critic Consensus: No consensus yet.
Movie Info
Friends Forever follows the fortunes of the eponymous rock band, who claim they're out to save rock & roll, as they travel the country, bringing their unique brand of music straight to the people. The two band members live in their cars, and play live shows from their van at various locations, frequently determined by where they can find parking. These shows always include a lot of smoke and flashing lights, and occasionally draw crowds of curiosity seekers and some fans. The band is comprised of Friend Nate, who plays drums in the van while Friend Josh plays bass in and out of the van, occasionally climbing onto the van and setting things on fire, or rampaging through a crowd of curiosity seekers wearing a wolf costume, or if he is in a gentler mood, distributing hugs. Friend of the Friends Jenn helps them with the lights and the smoke, and sometimes performs as their opening act. Nate explains that they have to pretend that Jenn "doesn't have genitals," or they'd want to have sex with her all the time. Filmmaker Ben Wolfinsohn captures the band on tour, as they travel from their hometown of Denver to Olympia, playing shows. The band is excited to meet singer-songwriter Harvey Sid Fisher, who sings about astrology. A little bit of Nate's home life is also shown. While his parents appear to be supportive, his father expresses a preference for the music of Nate's younger brother's band, who play, as Nate rather disparagingly describes it, "listenable rock." Wolfinsohn also follows the band to New York, where they play outside the offices of Troma Films, and receive an award from Troma co-founder Lloyd Kaufman and the company's mascot, Toxie. Friends Forever was shown at the 2002 New York Underground Film Festival.
Rating:
NR
Genre:
, , ,
Directed By:
In Theaters:
On DVD:
Runtime:
Studio:
Plexifilm
Critic Reviews for Friends Forever
All Critics (1) | Fresh (1) | Rotten (0) | DVD (1)
Ben Wolfensohn's documentary is floated, firstly, by the curiosity abundant in its subject, and also by the sympathy and interest in its depiction.

Not Coming to a Theater Near You
Audience Reviews for Friends Forever
Man, that "Seventh Seal" was something else. Great death movie. Everybody loves death.... I bet the box-office was HUGE. "Friends Forever" was a bit dissapointing, considering I liked "High School Record" so much. But, hey, it wasn't bad, so I guess there's no reason to complain. Same with "Bobby Long" (John Travolta and Scientology can go get bent, the Trekkie bastards) and Todd Haynes "Far From Heaven", which begs the question: Has it become a cliche for gay guys to be obsessed with the 50's? Is it a stereotype now, or just John Water's image? I don't know.
Tim Weinmann
[url="http://www.amazon.com/exec/obidos/ASIN/B00008HCAU/artprom-20?dev-t=D3FO92VGOJ8EZU&camp=2025&link_code=xm2"][img]http://images.amazon.com/images/P/B00008HCAU.01.LZZZZZZZ.jpg[/img][/url] [font=Franklin Gothic Medium][size=3]no stars[/size][/font] [font=Franklin Gothic Medium][size=3]No long review here because this trash doesn't warrant it. I stopped this movie because I was already struggling to stay invovled in the story when some guy started drinking is own vomit (and yes, it shows him vomiting and then drinking it from a milk carton). This doc is worthless really, and if you doubt my opinion on this, go ahead, rent it. And you'll be sorry. [/size][/font] [img]http://www.monesi.com/sergio/movies/oct98/darkcity2.jpg[/img] [font=Franklin Gothic Medium][size=3]*1/2[/size][/font] [font=Franklin Gothic Medium][size=3]Dark City is about a guy who wakes up in a bathtub having no idea where he is only to find a dead body lying with him in the room. He also realizes that he has forgotten who he is. [/size][/font] [font=Franklin Gothic Medium][size=3][/size][/font] [font=Franklin Gothic Medium][size=3]The main downfall of this movie is that it tells the viewer multiple times what the "secret" of Dark City is and why people can't seem to retain their memories. I was ready for the movie to end midway through. The acting was really not too good, which is surprising because of the solid cast. Connelly was particularly bad. [/size][/font] [font=Franklin Gothic Medium][size=3][/size][/font] [font=Franklin Gothic Medium][size=3]The plot twist was actually decent, but like I said they repeated it way too much. The budget looked like was low, but director Alex Proyas did a good job with what he had. I think it would have helped if I would have seen this movie before T[i]he Matrix[/i] (and yes it did come out before [i]The Matrix[/i]) so I give Proyas the credit for the cool idea. But other than the twist, I was just waiting for it to be over midway through. Overall, I'd recommend it because there are plenty of people out there who love it and you might too; but I didn't.[/size][/font]
Burton Morris
Discussion Forum
Discuss Friends Forever on our Movie forum!