Carnage
(2002)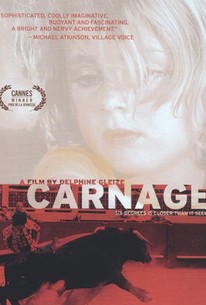 Movie Info
Carnage, an example of what the French call un film chorale , tells several intertwining stories. In the central tale, a young second-generation bullfighter, Victor (Julien Lescarret), is gored, and is rushed to the hospital in critical condition. A little girl, Winnie (Raphaëlle Molinier), sits next to a massive Great Dane and watches the fateful bullfight on television, and becomes obsessed with the bull. A university researcher, Jacques (Jacques Gamblin of Safe Conduct), cheats on his massively pregnant wife, Betty (Lio), who hides a critical fact about her pregnancy from him. Jacques' brother, Luc (Bernard Sens), an amateur taxidermist, lives with their mother, Rosie (Esther Gorintin), who loves him, but withholds a family secret. Winnie's teacher, Jeanne (Lucia Sanchez), struggles to understand her neurotic mother, Alicia (Ángela Molina), when she visits. When her car is dented by a shopping cart, Carlotta (Chiara Mastroianni), a struggling actress, meets Alexis (Clovis Cornillac), a suicidal philosopher/skater who offers to lead her to the culprits. Carnage, the debut feature from writer/director Delphine Gleize, won the Sutherland Trophy at the 2002 London Film Festival and Best Screenplay at the 2002 Stockholm Film Festival. It was also shown at the 2002 Cannes Film Festival and at Lincoln Center in New York as part of their 2003 Rendez-Vouz with French Cinema.
Critic Reviews for Carnage
Audience Reviews for Carnage
½
An ensemble movie tying 6 seemingly unrelated stories together. The narrative is complex and sometimes hard to follow, and demands viewer's attention to fully appreciate it. The cast is excellent as well as cinematography, and the movie is mesmerizing at times. However, as a whole, it doesn't work as well as the sum of its parts, partly due to just too much going on and too many contrivances to tie the story together. Also, on more than one occasion the dialog made little sense - perhaps something was lost in translation.
Gabriel Knight
i enjoyed watching this film but had a hard time following the plot. i understood what was happening by the end of the film but wrestled with how the story got there. this movie is worth checking out.
Ian Jones
Carnage Quotes
There are no approved quotes yet for this movie.
Discussion Forum
Discuss Carnage on our Movie forum!