Titanic
(1943)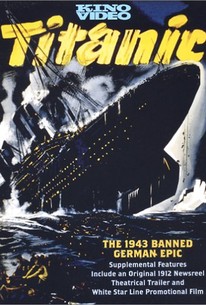 AUDIENCE SCORE
Critic Consensus: No consensus yet.
Movie Info
This dramatic recounting of the disastrous maiden voyage of H.M.S. Titanic was produced in Germany during WWII and features an undertow of anti-British propaganda absent from other versions of the story. The building of the luxurious ocean liner Titantic proves to be a hugely expensive proposition, and Sir Bruce Ismay (Ernst Fritz Furbringer), president of White Star Lines, wants to make sure that the ship's first crossing is big news. It is at his urging that Capt. Edward J. Smith (Otto Wernicke) pushes for a record speed in their voyage to New York, sowing the seeds for later disaster. This Titanic features a number of rich, decadent British passengers and a handful noble German peasants. While the film was produced with the participation of the Nazi government, its portrait of a disaster at sea proved to be more depressing than inspiring, and it was pulled from theaters shortly after its initial release, though it has since appeared on television and on home video in Europe. ~ Mark Deming, Rovi
Critic Reviews for Titanic
Audience Reviews for Titanic
½
The Nazi propaganda film Titanic is incredibly bizarre yet imminently fascinating. Aside from a few names, the ship, and the iceberg, there's no resemblance to the real people and events. In this version greedy president of the White Star Line, Bruce Ismay, pushes the Titanic's speed in order to set a new world record in hopes of raising the company's stock price and winning a prestigious Blue Ribbon; meanwhile the ship's only German officer, Petersen, attempts to warn passengers and crew that an impending disaster awaits if the ship isn't slowed down before they reach the ice fields that lie ahead. The film is appalling on so many levels, yet it's rather interesting to see how things have been distorted to fit the anti-British narrative. An obscene piece of propaganda, Titanic failed spectacularly (forgotten almost immediately after it was released) and sank into obscurity.
Dann Michalski
Super Reviewer
Titanic Quotes
There are no approved quotes yet for this movie.