Graveyard of Honor (Jingi no hakaba) (Death of Honor)
(1975)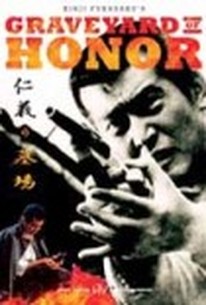 AUDIENCE SCORE
Critic Consensus: No consensus yet.
Movie Info
Vengeance Is Mine meets La Strada in Japanese gangland auteur Kinji Fukasaku's real-life yakuza drama about a sociopathic loser who always seems to make the wrong decision. Opening in the blackmarkets of Shinjuku just after the war, Ishikawa (played by matinee icon Tetsuya Watari) works as muscleman for the Kawada crime family. After a raid on a Chinese gang's gambling parlor turns into street warfare, Ishikawa finds himself taking refuge in the boarding room of frightened waif and war orphan Chieko (Yumi Takigawa). After a brief departure, he returns, stinking drunk, to collect his belongings and eventually he rapes her. Meanwhile, Ishikawa almost sparks a gang war after beating up a prostitute of a rival gang. Though the Kawada clan's connection with the American occupation forces eventually forestalls any bloodshed, Ishikawa's godfather (Hana Hajime) balls him out and humiliates him. In retaliation, Ishikawa jumps his boss and stabs him an inch short of his life -- a cardinal sin in the crime world. Ishikawa again takes refuge with Chieko, who in spite of his previous brutishness takes pity on the battered and bleeding gangster and nurses him to health. After a brief stint in jail, Ishikawa learns that he is spared execution only through the efforts of his old friend and crime boss Kozaburo Imai (Tatsuo Umemiya); he is instead banished from the Tokyo yakuza world for ten years. Imai arranges for him to lay low in Osaka, where he lives in a flophouse, spending his time whoring, developing tuberculosis, and shooting up dope. He soon gets bored of Osaka, and ventures back to Tokyo with his witless junky sidekick Ozaki (Kunie Tanaka). After another stint in jail, he marries Chieko, who has by this point developed full-fledged tuberculosis. This film was ranked one of the best Japanese films of 1975 by the prestigious film journal Kinema Jumpo. ~ Jonathan Crow, Rovi
Critic Reviews for Graveyard of Honor (Jingi no hakaba) (Death of Honor)
Audience Reviews for Graveyard of Honor (Jingi no hakaba) (Death of Honor)
A full on masterpiece. Fukasaku shows his main character as something akin to a mad dog, killing and raping as he pleases. He's a certifiable sociopath. What adds to the films greatness is it's portrayal of the yakuza, though comprised of criminals, still tries to remain honourable, but the fact that they rely on people willing to kill for money, honour is an idiotic notion. Watch back to back with Miike's great remake.
Christopher Brown
Super Reviewer
As a fan of director Fukasaku, this was not nearly as great as I'd hoped it to be. The story, although setup as documentary-styled non-fiction, comes off as sort of cartoonish and almost crosses the line of being irritating in some scenes. My main problem with the film is the lack of character even with the story centering around one man. It makes it rather difficult to feel for the victims along the way. Then there are the wacky diagonal camera angles that would be welcomed in Batman: The Movie (1966) but eventually become a distraction in a supposedly "balls out" crime drama. It does gain some points for showcasing Japan's decadent underworld of drugs, murders for hire, and prostitution lifestyle during the post-war era. Some yakuza fans will no doubt be entertained, but others might be less interested in this story.
El Hombre Invisible
Super Reviewer
Another sensationalist yakuza movie from Kinji (Battle Royale) Fukasaku, it charts the career of a Tokyo hoodlum in the 1940s. An interesting historical backdrop makes for a slightly different spin on the material, the streets ruled by rival gangs exploiting the poverty of everyday people using the resources of occupying GIs and warring with Japanese hating recent prison camp interns. The synopsis makes the story sound like an Eastern version of The Godfather, but the treatment of the material is far more like an exploitation flick, with constant violence, bloodshed, sex and drug abuse. The result is that Tetsuya Watari's character comes across as completely unsympathetic; just a violent, self-centred thug and because the direction is far more interested in sensationalism than characterisation, you never feel you get to know the man or his motives. There are moments of brilliance, but a more restrained and subtle approach could've made for a far superior film. Definitely worth checking out for fans of exploitation flicks though.
Graveyard of Honor (Jingi no hakaba) (Death of Honor) Quotes
There are no approved quotes yet for this movie.