As Tears Go By
(1989)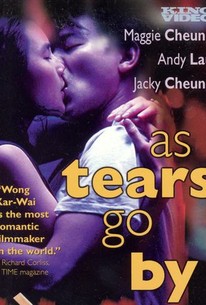 Movie Info
Hong Kong auteur Wong Kar-wai makes his feature film debut with this gritty romantic crime-drama inspired by Scorsese's Mean Streets. The film opens with young gangster Wah (Andy Lau) getting a visit for the day from his beautiful cousin Ah-Ngor (Maggie Cheung), who is coming into Kowloon from the remote outlying Lantau island to receive medical treatment for a lung condition. At first, the short-fused gangster and the quiet country girl have little in common, but gradually the two start to form a bond of sorts. Meanwhile, Wah's buddy Fly (Jacky Cheung), who has an absolutely volcanic temper, is always getting Wah into hot water. Even though Wah knows that Fly is bound to end up dead soon, he stands by his foolhardy friend. After some hesitation, Wah -- who has fallen for Ah-Ngor -- visits his cousin on Lantau, hoping to make their relationship more than family. Fly later infuriates a psychopathic mob boss, Tony (Alex Man Chi-leung who, along with his henchmen, beats and degrades Fly and Wah. This induces Fly make amends with Tony by undertaking the outrageously difficult task of rubbing out an informant who is in the custody of the cops, before the man has the opportunity to testify in a court hearing.
Critic Reviews for As Tears Go By
Audience Reviews for As Tears Go By
Wong Kar Wai's Promising debut
Great first effort by Wong Kar Wai
Anthony Valletta
Super Reviewer
½
This is Wong Kar-Wai's debut from 1988. Starring Maggie Cheung and Andy Lau. Fiited with typical 80's ambiant soundtrack and two narrtives told. Being a wong Kar Wai fan I've tried to watch all of his movies over the past couple of months, this has to be incredibly different to the others I've watched. For one thing I haven't watched A Wai film with a gangster feel to it. It was a little odd to start with but for me it did feel realistic and probably very typical to Hong Kong in the 1980's, so, Wai diffently makes a stament there. I enjoyed the hard reality of this gangster feel. I mean when watched Hollywood gangster film I don't usually feel that I can't watch what's going on on screen as it just seems very typical. What Wai does well in his debut is that the violence seems very realistic and not delibertly done in such a wy that is for Hollywood and looses the realism. Naturally there's no Chistopher Doyle's cinemtography in this film as it was his first but the cinempatography isn't bad but not great. Hand-held camera was used a lot so you felt like you were there in the film. Unfortunatly what the movie falls up upon is the love story betwwen Andy Lau's character and Maggie Cheung's. To me it does seem a bit pointless. First of alll it just doesn't seem particularly geuined, almost like a fling but perhaps it could have meant to be that what or not; I just didn't understand that bit. Some of the characters I couldn't figure out, Andy Lau had a brother then he apprently has another younger one- too confusing. Asides that, this is a good debut for the then 30 year old Wong Kar Wai you can diffently seen potential in this film. Overall worth the watch if you're a Wong Kar Wai fan, just don't expect anything outstanding as In The Mood For Love.
Sarah Gaish
Super Reviewer
As Tears Go By Quotes
There are no approved quotes yet for this movie.