Simon
(2004)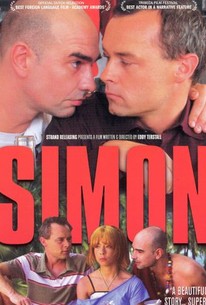 Movie Info
An unlikely friendship is renewed under difficult circumstances in this comedy drama from the Netherlands. Simon (Cees Geel) is a loudmouthed but likable hash dealer who one day meets Camiel (Marcel Hensema), a soft-spoken aspiring dentist who nearly falls victim to Simon in an auto accident. Despite the circumstances of their meeting and the fact that straight Simon is a bit taken aback by Camiel's gay lifestyle, the two become good friends, but they have a falling out when Sharon (Rifka Lodeizen), Simon's girlfriend, decides to find out just how gay Camiel really is and ends up having sex with him. Simon and Camiel don't see one another for nearly 15 years until they have a chance meeting, and Camiel learns that his brash and burly friend has developed a serious brain tumor and has only a few months left to live. As Simon becomes a shadow of his former self, Camiel and their old circle of friends band together to offer him comfort in his final weeks. Written and directed by Eddy Terstall, Simon was the official Dutch entry for the Foreign Language Film Oscar at the 2005 Academy Awards.
Audience Reviews for Simon
This movie could've definitely been more sentimental and more melodramatic than it probably ended up being. Especially since it deals with the very serious subject matter of assisted suicide. This is something that hasn't ever been tackled, at least that I'm aware of that and one that isn't a documentary, released on this side of the world, so this film looks at something very serious and, thankfully, doesn't exploit it as much as others would have. The film also tackles the issue of gay marriage, but it's not done in a way of seeing Camiel and Bram struggle to gain social acceptance and fighting against a society that so badly doesn't want them to be married to each other. It's not like that at all, everyone just sort of accepts it and moves on. Which is the way it should be everywhere but you rarely get to see. Then again, this is a film and it's probably not a reflection of the situation for gays in Netherlands, but I hope that in an European country that things are much easier and less oppressive than in other parts of the world. There are gay jokes in the film, but they don't really feel mean spirited at all, that's just the way Camiel's and Simon's friendship developed. Sort of like a group of old friends who insult each other all the time for shits and giggles. They may insult each other but they're probably very close to each other. And that's how it feels when Simon pokes fun at Camiel's sexual identity, just two old friends fucking with each other. And I did find their friendship to actually be surprisingly touching in seeing the dedication Camiel has to being there for Simon every step of the way through this difficult journey and how he tries to put up this act that seeing his friend dying doesn't emotionally affect him, when it very much does. So I liked the film for the fact that it deals with something very serious in a low-key and mature manner. It's sort of like 50/50 except not nearly as funny and not nearly as good overall. The film looks at how Simon's decision to pursue 'euthanasia' affects those around him including his children, mostly his daughter. I don't think the film went as deeply with this as they could, like examining how this truly affects not even his family, but those who've known him for years. Outside of a stretch of about 15 minutes, where his daughter convinces him to put a kibosh on the whole euthanasia, before Simon is told that it should be his choice alone. But that's about it, the rest of the film sort of deals with the inevitability of the event and not the consequences of his decision. Because of that, the film really has this very depressing tone even as it's trying to entertain you. It doesn't really work, in my opinion, I think the film was simply way too depressing as it went along. It doesn't really feel like it's a celebration of Simon's life as much as it is about how he chose to end it. Granted, you get a lot of flashbacks elaborating on what Simon was like and how he still IS like. But the film should've taken a more positive approach towards this subject. I'd have still kept the entire movie the same, except I'd have taken more time to celebrate Simon's life and the impact he had on the people around him, rather than focusing so much on his impending death. That's pretty much my only complaint about the film, and the reason it got three stars, even though I liked it more than the rating would imply. 50/50 had its very depressing moments, but ultimately it's a celebration of life even in the face of incredibly difficult circumstances and the people around us that help make those moments a little easier to tolerate. This film didn't have that, and that's what was really missing from the film. I found the cast to be solid and the film has plenty of heart and warmth to make up for its flaws. I think the comedy is also a little inconsistent, but that's a minor issue when the film is dealing with such a serious subject. Still, I liked this movie. It's definitely a movie that will depress you pretty much from beginning to end, but I think there's more than enough good here to make this worth watching on Amazon Instant Prime, if you have it.
Jesse Ortega
Super Reviewer
Simon Quotes
There are no approved quotes yet for this movie.