Voices of Iraq
(2004)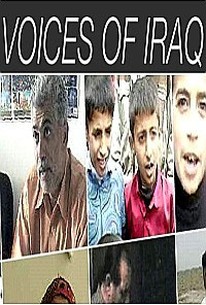 Movie Info
Compiled from over 2,000 digital video recorders given to Iraqis between April and September of 2004, Voices of Iraq is an intimate look at wartime Iraq rarely seen outside of the war zone. Presenting a decidedly neutral viewpoint, this documentary focuses on common day-to-day life within the country as invading military forces continue to polarize the citizen's opinions of the invasion and the devastation it has left behind. With startling footage of casualties across the board, Voices of Iraq offers an unusual glimpse into the nightmare of war as seen through the eyes of those who must persevere in the midst of it.
Critic Reviews for Voices of Iraq
Audience Reviews for Voices of Iraq
½
Alright so here's the thing about Voice of Iraq: it's heart is in the right place. The whole idea of the film isn't a totally revolutionary one, but it's one that doesn't rear it's progressive head in U.S. filmmaking much these days, so it still counts as refreshing. To give the cameras and the power to the people, and create a filmmaking force that documents its own story is something that was revolutionized, utilized, and perfected in Canada in the 70s as a part of the Challenge For Change program. Under dedicated hands in the right circumstances, it works, but without the logisitcal knowledge to match the go-get-em attitude, it can fall flat on its face, and Voices of Iraq is a clear example of that. See, it's not that the story isn't there. The people of Iraq have countless tales to tell to America, the rest of the world, and most importantly, each other, and the medium of film is great way to tell those stories. There's little that can me more empowering than a bit of film education and a camera, especially when a person hasn't had either of those things. But what do you do with that? The entire base of the Voices of Iraq plan seems to be missing in that the filmmakers invested little past the whole "lets give people" cameras thing. It's almost as if they were looking for cheap labor to shoot their movie for them so they could throw it together at the end (which obviously wasn't the full intention, just sayin). They halfassed it. What did they expect the people of Iraq, the people of the audience, really, anyone to gain from this feature? There's not story to be told here except for the countless back and forth between those who back and oppose the war. Nothing is enlightened, no cultural boundaries are really smashed, and probably most dissapointing of all, an organizing means that could've been used to unite different people of Iraq together in a single cause was completely overlooked in the pursuit of some sort of film vision that became completely invisible on screen. There's no outcome in the film, and there's no outcome outside of the film. The people of Iraq who are credited with the directing and shooting of Voices of Iraq were given a means with no end, and because of that, there's little film to credit them with. Sorry everybody, the Canadians probably could've done better.
Alex Keipper
½
[font=Century Gothic]Everyone has an agenda.[/font] [font=Century Gothic][/font] [font=Century Gothic]Here's mine: it is one of pacifism. I do believe in peace and violence only as a means of last resort.[/font] [font=Century Gothic][/font] [font=Century Gothic]The makers of the film "Voices in Iraq" have one, too. Ostensibly, the idea of the documentary is admirable - distribute 150 digital cameras to ordinary Iraqi citizens, so they can film the world around them, starting in March 2004, one year after the American invasion.[/font] [font=Century Gothic][/font] [font=Century Gothic]What should have happened was a cinema verite examiniation of the country at large without comment, but it departs about twenty minutes in to show torture footage from Abu Gharib from Saddam Hussein's brutal reign and uses this footage to excuse the American abuses because Saddam Hussein did much worse. An abuse of authority is still an abuse and cannot be excused this way. [/font] [font=Century Gothic][/font] [font=Century Gothic]In fact, the documentary seems to be a rationale for defending the American invasion. It does talk about the Kurdish genocide in 1988 but then where were the American armed forces then? One person brings up the never proven connection between Saddam Hussein and Al-Qaeda. In fact, "Voices of Iraq" occasionally departs from its chosen structure to show propoganda made by the terrorists.[/font] [font=Century Gothic][/font] [font=Century Gothic]I had always recalled that WMD's and terrorism were the reasons for going to war in the first place but when the infrastructure of Iraq was ripped out without thought of what would happen next, this allowed for much more terrorism to happen. Thus, even with the new freedoms enjoyed by the Iraqi people, explosions can be heard in the background.[/font] [font=Century Gothic][/font] [font=Century Gothic][/font] [font=Century Gothic][/font]
Ok--this isn't going to convince anyone of anything, but I hope it can open some eyes--at least give a more balanced picture of what's going on in Iraq. [img]http://images.buzznet.com/assets/users5/tinyelvis/iraqstreet/gallery-msg-1104821200-2.jpg[/img] Don't care what your political beliefs are, whether we should be there or not--not the point. However, anyone who cannot or is unwilling to admit that there is a media bias and/or some sort of concerted effort (or perhaps even lazy journalism) to aid in Iraq's failure as an independent state is either easily influenced or incapable of doing critical thinking on their own. [img]http://images.buzznet.com/assets/users5/tinyelvis/iraqstreet/gallery-msg-1104046724-2.jpg[/img] That being said, producers of this film gave something like 190 digital cameras to people on the streets of Iraq--Baghdad, Basra, Kurdish areas, etc.--and let them film themselves and their friends and families. Sure, you get a lot of kids hamming it up for the camera, and the presence of English-speaking Iraqis is not to be underscored (hence, a pro-Western attitude), but you'd think all Iraqis hate us and want us out if you watched mainstream media. This documentary shows the exact opposite. I'm not saying that this makes this Gospel, but it is just as effective in it's message (if not more than the "doom and gloom") and prooves the point that there is so much more going on that we don't hear about. We just get the bad news people. I mean shit, if I went by the news, I'd never go to Detroit--ever. Probably still won't, but I'm sure there's a lot of good thereother than dwindling Ford productions, lack of jobs, arson and a shitty football team. I love how the documentary shows real scenes of Iraqi street life, and then contrasts that with headlines saying the opposite in the NY Times and other rags. [img]http://images.buzznet.com/assets/users5/tinyelvis/humanity/gallery-msg-1104044878-2.jpg[/img] The only place I have found this DVD is online at NetFlix, but I'm sure availability differs city by city. Just check it out. You don't have to agree with everything, and may feel like some things are watered down--but I guarantee you you'll finish thinking, "maybe they don't hate us." [img]http://images.buzznet.com/assets/users5/tinyelvis/humanity/gallery-msg-1103957179-2.jpg[/img] My favorite part is the former Iraqi torture victim who is talking about Abu Ghraib and he's saying, "They say this is torture what they did in Abu Ghraib. Men, are made to take their clothes off, and then a woman plays with his penis. This is torture?" Not to be underestimated, I posted the story below because this exact same premise was discussed HEAVILY by the Iraqi people in this documentary. They hate these people too.
Ryan Son of Ander
Voices of Iraq Quotes
There are no approved quotes yet for this movie.
Discussion Forum
Discuss Voices of Iraq on our Movie forum!