First Born
(2007)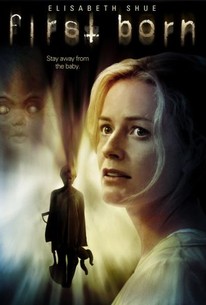 AUDIENCE SCORE
Critic Consensus: No consensus yet.
Movie Info
A woman who wanted nothing more in life than to become a mother finds her sanity slipping after the birth of her child in a terrifying look at the horrors of parenthood starring Academy Award nominee Elisabeth Shue. The only thing that seems to be missing from Laura (Shue)'s otherwise perfect life is a child, and when Laura and her husband discover that she has become pregnant it seems that all the pair's dreams are finally coming true. Motherhood is far from the simple and instinctual task that Laura imagined it would be, however, and soon after the birth of her child the confused new parent finds herself struggling with the pains of post-partum depression. Despite her determination to protect her baby at all costs, Laura begins to question her abilities as a parent after moving into a large and isolated new home. Now, as a plague of rats flood into the basement of the home, a mysterious diary is pulled from inside the decrepit walls of the home, and a new nanny is hired to help the distressed mother care for her newborn child, the situation soon descends into a harrowing battle for sanity as the fate of a young child hangs in the balance.
Critic Reviews for First Born
Audience Reviews for First Born
Elizabeth Shue does a great job portraying Laura, a gorgeous, bright dancer who gets pregnant and moves into a country home for peace and safety with her husband, a busy attorney from NYC (Steven Mackintosh) who goes right back to work in the city, leaving her alone for long periods of time. Laura begins to imagine things and things take a turn for the worse especially when her pet dog is accidentally poisoned after eating rat poison that she planted in her house. Laura's deep guilt over her dog`s death leads to her feeling that she won't be a good and caring mother to her soon to be born child. Her hallucinations and the way her mind goes downhill is believable and the viewer is left questioning whether these creepy things are the subconscious manifestations of Laura's unwillingness to be a mother or if there is something really sinister going on beyond her control. The ending was a twist that was somewhat expected, but still a bit of a shock so if you enjoy a psychological thriller then look no further.
½
Plot element. Plot element. Rosemary's Baby ripoff. Plot element. Rosemary's Baby ripoff. Botched hair dye job acting as a conduit for horror. Rosemary's Baby ripoff. Getting locked out of places. Predictable twist ending. Movie over! I bought this for two dollars just so I could have an excuse to say "stay away from the baby" to my friends over and over again. That ended up being a better investment than the actual movie. Elisabeth Shue, you got nominated for an Oscar. Where is your career?
Drew Smith
Super Reviewer
A creepy, scary, suggestive film. The opening title sequence sets the mood for this little drama. Elisabeth Shue is great in the leading role as a first time reluctant mother. This is her best work since Leaving Las Vegas.
Magnus XXXX
Super Reviewer
First Born Quotes
There are no approved quotes yet for this movie.