The House of Usher
(2006)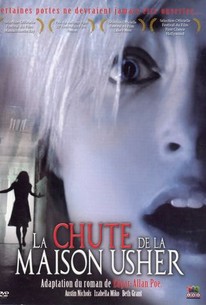 AUDIENCE SCORE
Critic Consensus: No consensus yet.
Movie Info
In this moody modern take on the classic Edgar Allan Poe story, a girl named Jill is coping with the disappearance of both her lover and her best friend, siblings Rick and Maddy Usher. Three years after the two vanished from her life, Jill receives a phone call informing her of Maddy's death, as well as the girl's dying wish for her estranged best friend to attend her funeral. With a heavy heart, Jill sets off for the remote New England town where her ex now resides, only to find that he himself is suffering from the same condition that claimed Maddy's life. With the shadows of Rick's disorder creeping ever outward, Jill begins to feel she is haunted by Maddy's ghost.
Critic Reviews for The House of Usher
Audience Reviews for The House of Usher
A very...very...very...slow-paced...and boring...film. No action, what so ever. It's almost as bad as "The Skeptic." However, it did have some interesting parts and a story, so I'm going to give it some credit. But if you're looking for a good scary, bloody horror movie, this is not the film for you.
Jacob Palacio
Super Reviewer
½
A modern remake of the dark Edgar Allen Poe story. The cimenatography is usual to Think Films. A college student finds out her best friend and twin sister to her ex boyfriend has died. At the funeral she is re-united with her ex Rick who she finds out is also sick with some disease that has plagued the entire Usher family line. Jill finds herself seeing the ghost of her dead friend Maddy all over the house. The maid of the household played by Beth Grant (the creepy mom from Donnie Darko) who wants Jill out of the house seems to pop up everywhere something odd is happening. Rick who is writing a novel begs Jill to stay for him and to read the novel when he is finished. Strange things begin to happen and Jill finds herself trapped in a fight for her life. There really wasn't many scary scenes and the music seemed like they were about 5 min off on timing the score to the movie.
shane haley
Super Reviewer
The House of Usher Quotes
There are no approved quotes yet for this movie.