Fritt vilt (Cold Prey)
(2006)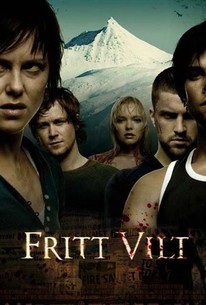 AUDIENCE SCORE
Critic Consensus: No consensus yet.
Fritt vilt (Cold Prey) Photos
Movie Info
An afternoon of winter fun turns out to be unexpectedly chilling in this thriller. Five friends head out for a weekend of snowboarding in the Norwegian Alps -- Eirik (Tomas Alf Larsen) and his longtime girlfriend Jannicke (Ingrid Bolso Berdal), Mikael (Endre Martin Midtstigen) and his new significant other Ingunn (Viktoria Winge), and Tobias (Rolf Kristian Larsen). Tobias already feels like the odd man out since he's currently without a girlfriend, and he becomes a lot more uncomfortable when he breaks his leg while taking advantage of a secluded ski spot. It's getting late in the day and injured Tobias needs to get out of the cold, so he and his friends take shelter in an abandoned ski lodge nearby, planning to head back into town in the morning. However, as the evening wears on Tobias and his pals realize that the lodge isn't as abandoned as they thought, and its sole inhabitant is a madman who is determined to see them dead. A major box office success in Norway, Fritt Vilt (aka Cold Prey) was the first feature film from director Roar Uthaug.
Critic Reviews for Fritt vilt (Cold Prey)
All Critics (2) | Top Critics (1) | Fresh (2) | Rotten (0) | DVD (2)
A conventional but nicely handled slasher pic that makes good use of spectacular mountain range locations.
February 2, 2007
Not an original bone in its body, but it still works (and works well) by force of style, splat, and intensity.
Audience Reviews for Fritt vilt (Cold Prey)
Cold Prey is one of the best, most original Slasher films of recent memory. Along with Adam Green's Hatchet, this film is a real breath of fresh from stale teen Slasher films such as Urban Legend and I know What You Did Last Summer. Cold Prey is an effective horror film that steadily builds up the tension on-screen and slowly terrifies. Cold Prey's dark atmosphere and sense of helplessness (as the characters are in the middle of nowhere) only add to its strong, original story and elevate this film beyond anything that we have seen in the horror genre since the 1980's. I am very impressed with the Norwegian output in the horror genre, and Cold Prey is a terrific Slasher film that will definitely become popular over time. Given time, this film will find its audience. To sum up Cold Prey, it's a Slasher film that brings back key elements of the slasher film formula very well and it's reminiscent of classic vintage slasher greats. Cold Prey is one of the few genre films to really terrorize the viewer. This film has something that most Slasher films do not possesses and that's a feeling of constant suspense. If you're a fan of the genre, then you'll surely enjoy this one. With a good cast and effective directing, Cold Prey delivers memorable thrills and shocks that successfully brings back key elements that made Slasher films exciting a fun to watch. Cold Prey is one of the finer Norwegian horror films and is among the best films in the horror genre in a very long time.
½
Its plot gave the impression that the production was hold on for a few many years. Yet it works for it doesn't bore. When the options begin to get limited, one learns to appreciate such pieces. More or less.
familiar stranger
Super Reviewer
½
Fairly good Norwegian slasher all set in te snowy mountains where five friends find themselves unwelcome guests in an apparantly abandoned hotel. Took a little too long to get to the action and the kills lacked gore. But it is a suspensful and creepy film, especially during the last half and the killer has screen presence and is used very effectively. Certainly better than your average slasher, but may leave the gorehounds wanting more brutality.
Fritt vilt (Cold Prey) Quotes
There are no approved quotes yet for this movie.