Blast of Silence
(1961)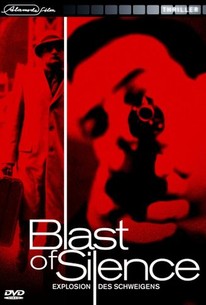 Movie Info
A hit man is called in to rub out a mob boss. He meets an old flame and has second thoughts about the killing until she rejects him. Allen Baron writes, directs and stars in the dark crime drama.
Critic Reviews for Blast of Silence
Audience Reviews for Blast of Silence
½
A hired killer takes us for a stroll through Manhattan's wet pavement, along with his misanthropic thoughts, and especially directed feelings of utter disgust and hatred for his new target; like he was some kind of a grown up Holden Caulfield. The film, like everybody points out, lacks storytelling expertise. The voice over narration is unnecesary and takes away the emotional impact the images for themselves could have had. Perhaps this only inconvenience is what keeps it away from being a real contender when compared to others. But having stark realism and nihilism all over it, makes Allen Baron's obscure opera prima what film noir is all about, the complex character study of a man trapped on a hellish existence.
Pierluigi Puccini
Super Reviewer
tough film to rate. some of the acting is poor and the voiceover is mostly annoying and unnecessary. also the 'music' in the jazz club scene is like comic relief. still i'm not sorry i watched it. it's nicely shot and kind of existential. worth seeing for fans of film noir and pulp
Stella Dallas
Super Reviewer
Even Criterion is lowering thier standards. The movie looks great and some of the sequences are cool, but overall I was bored. I kept thinking of this as a 60's version of one of those Goodfellas knockoffs starring Frank Vincent and the kid from A Bronx Tale (see Federal Hill, Amongst Friends). The entire cast is alughable, but it didn't bother me as much as the narration which was, at times, annoying. I just kept wishing for this guy to either kill his mark or kill himself.
Blast of Silence Quotes
There are no approved quotes yet for this movie.