Ping Guo (Lost in Beijing)
(2008)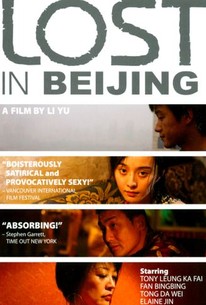 Ping Guo (Lost in Beijing) Photos
Movie Info
Mainland writer/director Li Yu teams with producer and screenwriter Fang Li for this tale of money and love in the Chinese capitol. Lin Dong (Tony Leung Kar-fai) is a resourceful entrepreneur from the southern province of Guangdong who has risen through the ranks to become the manager of the highly profitable Golden Basin Foot Massage Parlor. The popular parlor is staffed by a group of attractive young girls that includes Liu Pingguo (Fan Bingbing) and Xiaomei (Zeng Meihuizi), two Guangdong natives who are also looking for a better life in the big city. One night, after some heavy drinking, Dong takes Pingguo up to his lavish apartment and awkwardly forces himself on the girl as her window-cleaner husband, Kun (Tong Dawei), watches in shock from his harness outside. Later, when Pingguo discovers that she is pregnant, Dong, his infertile wife, Wang Mei (Elaine Jin), Kun, and the mother-to-be all sit down together to sign contracts that will allow Dong to adopt the child in exchange for a healthy chunk of change. The airtight agreement slowly begins to unravel, however, when the child is born and biological mother Pingguo realizes that giving up her child simply isn't an option. ~ Jason Buchanan, Rovi
News & Interviews for Ping Guo (Lost in Beijing)
Critic Reviews for Ping Guo (Lost in Beijing)
Audience Reviews for Ping Guo (Lost in Beijing)
½
After two graphic sexual encounters, the film settles into a interesting character piece, well directed and excellently acted. My problem was most of the characters were unlikable (although there were great lengths to show them as well rounded people with both good and bad within), and even Bingbing Fan's character (the most likable) was a bit of a doormat. Still an interesting perspective of Chinese culture (that was banned in China).
Anthony Valletta
Super Reviewer
A study in contrasts that plays out in the modern city of Beijing. Two disparate couples are joined together in an intricate ballet of deception, betrayal, blackmail, and sexual tension. The contrast is between a rich, childless couple and a poor, working class couple. It contrasts the victim with his or her oppressor and the deceived against the deceiver. Each of these four tortured souls are involved in a gamble wherein they could lose everything and one is never sure who is winning, or indeed, if there are any winners at all. Interesting camera work maintains the dynamic tensions. There are long shots of Beijing and the mass of humanity, and long interior shots in which little is said or done, but in which violent emotions are on display. The cast is excellent, and the story maintains its narrow focus on these four characters almost without blinking. Only one small side story breaks the string, and it only adds poignancy.
Mark Abell
Super Reviewer
½
Excellent drama about a silce of life in modern day Beijing..excellent acting especaily by Tony Leung Ka Fai and Bingbing. All four central characters put forth a strong effort and the story does not disappoint. Moving, touching at times and does hold your interest. The story and the drama together is quite realistic and at times you wont feel as though you are watching a movie. See this!
Ping Guo (Lost in Beijing) Quotes
There are no approved quotes yet for this movie.