Trumbo
(2007)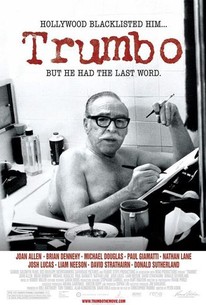 Movie Info
A documentary adaptation of the popular regional theatrical monologue -- in which such heavyweights as Paul Newman, Nathan Lane, and Joe Mantegna essayed the lead on various occasions -- Trumbo recounts the life and times of legendary Hollywood scribe-turned-HUAC scapegoat Dalton Trumbo. As with its source production, the film takes as its base material highly personal, detailed, and emotive letters written by Dalton Trumbo to his son, Christopher; the latter, in turn, molded the missives into a screenplay for this production. Here, however, in lieu of one actor portraying Dalton, a number of celebrities take turns narrating from the script, including Lane, Paul Giamatti, Brian Dennehy, Donald Sutherland, and others. As a visual accompaniment, the film intercuts home-movie footage from the Trumbos' lives; incisive interview material with Trumbo, his family, friends, and collaborators; and haunting glimpses of the HUAC trial hearings with the Hollywood Ten, led by Senator Joseph McCarthy; as well as extracts from The Sandpiper, Johnny Got His Gun, Spartacus, and other productions authored by Trumbo. Peter Askin, who helmed the stage play, directs. ~ Nathan Southern, Rovi
Rating:
PG-13 (for a sex-related commentary)
Genre:
,
Directed By:
Written By:
In Theaters:
On DVD:
Box Office:
$28,125.00
Runtime:
Studio:
Samuel Goldwyn Films
News & Interviews for Trumbo
Critic Reviews for Trumbo
Audience Reviews for Trumbo
Instead of viewing more of today's mass-pulp cinema, filled with fictional cardboard-heroes fighting against-all-odds, click into this, the TRUE story of one man who actually DID stand on righteous principle, against a system in-the-wrong, regardless of the personal and professional price that it would eventually extort. Trumbo, as one of ten Hollywood writers facing the witch-hunt that was McCarthyism, informs the Un-American Activities Congressional panel that, constitutionally speaking, it has no legal right to deny or probe an American citizen's political beliefs, that being the very tyranny from which the First Amendment aims to protect. The price for so informing them, of course, was a Hollywood blacklisting. This is a surprisingly impressive and moving telling of Trumbo's story. Collated into the archival footage telling the timeline of events are nine A-list actors honoring the man by reciting repeatedly from his personal papers. These monologues make incredibly plain the extraordinarily gifted writing, personal integrity and innermost thoughts of the man as he persevered through being ostracized, blacklisted and imprisoned - and eventually schemed his own redemption. Also interwoven are scenes from films authored by Trumbo that the viewer here learns are not just high-minded eloquent scriptwork but rather a reflection of Trumbo's personal values, beliefs and actions (eg, the refusals to betray as told in "Spartacus" & "Papillon"). An extension of 1993 stagecraft. All rights to this film were purchased by (the now defunct) Red Envelope Entertainment branch of Netflix. RECOMMENDATION: Highly worthy intellectual viewing.
TonyPolito Polito
In the beginning, there was the word and in the end, there was only the word, which in the case of the documentary "Trumbo" are the letters and screenplays penned by famed writer Dalton Trumbo, one of the Hollywood 10, held in contempt of Congress(Not to be confused with contempt for Congress) for refusing to cooperate with the House Un-American Activities Committee(HUAC) and jailed for a year.(Ring Lardner Jr. said he would have hated himself in the morning if he had.) After being blacklisted for ten years as a result and struggling to find any work, Trumbo's first onscreen credit was for "Exodus," due to Otto Preminger and his enormous brass balls.(Even with his liberal credentials, Preminger was never called before HUAC because as bullies, they were deathly afraid of him. It would have been funny if he had been, though.) Unlike I had originally presumed, this was only the first of many bricks in the blacklist to be taken down. That's not the only misconception that "Trumbo" seeks to correct, although it confuses HUAC with Senator Joe McCarthy. They were two separate entities, amongst the many red baiters out to ruin people in the 1950's. In front of the committee, the writers pled the first, not the fifth amendment, because they felt had done nothing wrong by freely associating with the Communist Party which was the only political organization active in political change at the time. The documentary seeks to illustrate Trumbo's role in these events by interviews(some with him before he died in 1976), archival footage, film clips and actors reading Trumbo's letters which is a mixed success at best. This takes the movie out of the realm of being a documentary and into a performance piece(Actually, this was adapted from a play). The best are Nathan Lane reading the only positive letter ever written from father to son on the subject of masturbation and Paul Giamatti reading a letter to the phone company. All of which provides a complete portrait of the writer as a cantankerous soul(nice people generally do not usually make good fighters). But for the best insight on the blacklist, check out "The Front."
I don't often seek out documentaries myself but this one is well worth the extra effort if you can find it. A compelling narrative about a courageous and extremely intelligent human being.
Randy Tippy
Super Reviewer
Trumbo Quotes
There are no approved quotes yet for this movie.
Discussion Forum
Discuss Trumbo on our Movie forum!