Bunt. Delo Litvinenko (Poisoned by Polonium: The Litvinenko File) (Rebellion: The Litvinenko Case)
(2007)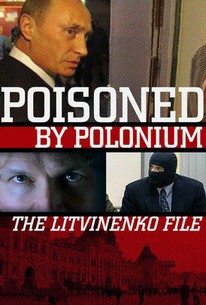 Movie Info
The filmmaker who had total access to deceased Russian dissident Alexander Litvinenko makes the inflammatory claim that Russia has fallen under the control of the Federal Security Service (FSS) -- a natural successor to the KGB -- in this documentary designed explicitly to indict the actions of Russian president Vladimir Putin. From claiming that free speech in contemporary Russia is being silenced by the government to implicating the FSS in the 1999 apartment-complex bombing attributed to Chechen terrorists, director Andrei Nekrasov pulls no punches in tracing corruption within the Russian government to the highest office. In the months before the film's eponymous dissenter was poisoned with radioactive polonium-210, he had grown frustrated with the broken system and, along with some key members of the FSS, began to speak out. Later, after Litvinenko held a press conference condemning the Russian Secret Service and subsequently fell ill, Nekrasov conducted a series of interviews with the outspoken opponent of Putin's government. In an era when money laundering, mysterious deaths, and harassment of dissenting voices have become troublingly commonplace on Russian soil, Nekrasov launches a no-holds-barred attack on the president he holds accountable for creating a chilling climate of fear and oppression. ~ Jason Buchanan, Rovi
Critic Reviews for Bunt. Delo Litvinenko (Poisoned by Polonium: The Litvinenko File) (Rebellion: The Litvinenko Case)
Audience Reviews for Bunt. Delo Litvinenko (Poisoned by Polonium: The Litvinenko File) (Rebellion: The Litvinenko Case)
½
"Poisoned by Polonium: The Litvinenko File" is an eye-opening documentary that starts with the poisoning of Alexander Litvinenko, a former FSB agent who blew the whistle on corruption and violence in the FSB and moved to London for political asylum. Documentarian Andrei Nekrasov is in a unique position to comment on the case as he had previously befriended Litvinenko and had interviewed him on film on more than one occasion, giving an inside look at the power structure of Russia. Aside from this testimony, there is a string of circumstantial evidence linking a disturbing chain of events starting with the bombing of an apartment building in Moscow in 1999 that killed over 100 people and where the bodies of two FSB officers were found. The powers that be used this as a rationale for the murderous invasion of Chechnya and a subsequential crackdown on dissent that included the murder of journalists including Anna Politkovskaya. So while Russia has the democratic facade that make it and its former president Vladimir Putin attractive to western leaders, the reality could not be more different. In other words, new boss, same as the old boss.
Bunt. Delo Litvinenko (Poisoned by Polonium: The Litvinenko File) (Rebellion: The Litvinenko Case) Quotes
There are no approved quotes yet for this movie.