11-11-11
(2011)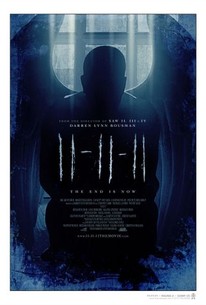 Movie Info
After the tragic death of his wife and child, famed American author Joseph Crone travels from the United States to Barcelona, Spain to reunite with his estranged brother Samuel and dying father, Richard. However, fate has a different plan for Joseph as his life becomes plagued with strange happenings, and the constant sightings of the number 11. Curiosity quickly turns to obsession, and Joseph soon realizes that this number holds a horrific meaning not only to himself but possibly to all of religion. Isolated in a foreign country with only the support of his companion, Sadie, Joseph soon realizes that 11/11/11 is more than just a date, it's a WARNING! -- (C) Epic Pictures
Critic Reviews for 11-11-11
Audience Reviews for 11-11-11
½
I'm partial and a half to director Darren Lynn Bousman, Repo! The Genetic Opera and The Devil's Carnival are two of my favourite group-watching experiences, his work in the Saw franchise totally worked for me, his entries II & IV are two of my favourites in the series. and he's very committed to the horror genre which I hold dear to my heart. But 11-11-11 is crap. There are actually a couple of moments I really liked. There's some crazy practical effects and some awesome lighting, and even some genuinely creepy shots, but those are the sort of things that make a good film better, not a bad film good. The story overall is disjointed, but even watching individual scenes unfold is confusing and unbelievable. Lead character Joseph seems to forget the life-saving act he was engaged in in one room the second that he enters the next. And these aren't even the largest of the films problems. But hey, at least it's better than 11/11/11.
"What does it say about me that I find it much easier to believe in the Devil than I do in God?" After the death of his wife and child, an author travels to Barcelona to see his estranged brother and dying father, where he learns that his life is plagued by events that occur on 11/11/11.
REVIEW
You may or may not have bought into the false advertising campaign that is targeting young horror fans who think that they are going to see some apocalyptic event that occurs on the 11-11-11. If you are part of this target group, I am telling you now that you will most certainly be disappointed. This film is a slow-paced, methodical character-driven piece about the conflict between faith-based ideologies. Don't be tricked into thinking that this is going to be some exciting or thrilling popcorn adventure in the same vein as some of the other high budget apocalyptic films out there. Director Darren Lynn Bousman has himself said that he wanted to explore his own spiritual beliefs and conceptions about existence through this film. Due to its misleading nature, I feel that many people are going to rightfully flame this film in general. In my opinion it would have served better as a psychological drama about the descent of a rational man into madness. The twist would have been Joseph's self-realization that 11-11-11 has no meaning and it is just another number. Unfortunately the film favors a more unrealistic and perplexing ending that wasn't needed. There are however some redeemable qualities to the film such as the philosophical themes surrounding religion vs. society and also the talent of Timothy Gibbs to carry the film until the end despite many major flaws. I recommend that you watch this when it comes out on DVD so you can make up your own mind but I suggest that you consider the limitations of the budget (which couldn't have been more than $2 million).
Lorenzo von Matterhorn
Super Reviewer
'Are you scared yet son?' Well yes, because this thing got made.
11-11-11 Quotes
| | |
| --- | --- |
| Samuel: | I believe in god, and with that comes belief in the Devil. |
| | |
| --- | --- |
| Samuel: | Brother be careful looking for meaning when there is none. |