Ring of Death
(2008)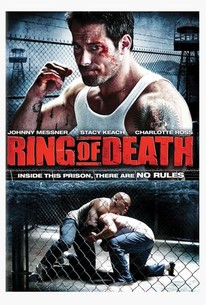 AUDIENCE SCORE
Critic Consensus: No consensus yet.
Movie Info
A sadistic warden runs a deadly fight club, where prisoners engage in brutal duels.
Audience Reviews for Ring of Death
A very medicore movie, and not very well-made.
Sarah Prisbylla
Super Reviewer
½
[color=Black] Do you consider yourself a real macho guy? a manly man? huh? well I bet you'll like watching this no holds barred bad ass balls to the wall beat em till they bleed action smash up. Its a prison flick about greed and manipulation. Go figure. Its got a bunch of MMA wannabie or rejects from the imaginary show "So you think you can fight?" The Big boy in this flick is called Da President and hes a big bald angry black man ( Surprise ) yes and he wants to make you his Biotch. If your wondering what he might look like, go google an image of Bobby Lashley and imagine a lesser version. Besides him we got your typical, Asian dude, skin head, hey theres even an irish guy this time isnt that nice, then of corse theres the clean cut kind hearted tough guy that wants to get his family back. Anyway, this movie centers around glorified cage fights between prisoners broadcasted over the internet to entrtain rich folk,(probably Donald Trump) If your expecting to see fancy moves like a flying roundhouse to the face or a slow mo uppercut, your in for a big dissapointment. It doesnt even have any sloppy MMA, just a bunch of dudes brawling and bleeding supposedly fighting to the death. It starts to turn into a skin flick, the likes youd see at 11pm on Cinemax. Like a 3rd rate porn. Pretty pathetic, but if you enjoy a good sweat and muscle film go ahead and watch, but dont say I never told ya.[/color]
Jesse B
Ring of Death Quotes
There are no approved quotes yet for this movie.
Discussion Forum
Discuss Ring of Death on our Movie forum!