Paper Man
(2010)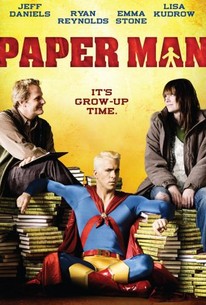 Movie Info
Paper Man is a comedic drama about an unlikely friendship between Richard, a failed middle-aged novelist who has never quite grown up and Abby, a 17-year-old girl whose role in a family tragedy years earlier has stolen away her youth. Richard has moved to a Long Island beach community for the winter season in order to overcome his writer's block. There, he meets Abby and hires her as a weekly babysitter, even though he has no children. As the season progresses and the warm, quirky friendship between Richard and Abby grows, the two begin to share with each other their dreams and life hardships. With the coming of spring, Richard and Abby discover there comes a time to let go of the imaginary friends of the past and to embrace the future.
People Who Like this movie also like
News & Interviews for Paper Man
Critic Reviews for Paper Man
Audience Reviews for Paper Man
½
A novelist with writers block, a failing marriage, and a superhero imaginary friend retreats to Montauk where meets a girl with her own issues. This is probably the best performance of Jeff Daniels's career as he is able to handle the broadly comic moments with Ryan Reynolds as his imaginary friend and the truly heavy moments with his estranged wife and the babysitter, played by Emma Stone, who doesn't have a baby to sit. He's funny when he needs to be, and his crying scenes come from a real, wounded place. The film is mostly senseless. By the end, we don't have any idea why these characters have retreated to a land with imaginary companions or what they really gain out of these relationships. The conflicts, namely Richard's argument with his wife, resolve themselves seemingly through magic and a half-hearted, unspecific apology. Overall, it's lame storytelling by the end, but there are some good moments in the first and second acts, and Daniels has never been better ... except for maybe The Squid and the Whale.
Jim Hunter
Super Reviewer
A little imagination goes a long way This is fantastic indie movie and a strong directorial/writing debut for Kieran and Michele Mulroney. The casting is interesting and diverse adding in the likes of Emma Stone, Ryan Reynolds, and Kieran Culkin. Each actor turns in their roles well for what they're meant to be. And I must say the film explores many intriguing concepts of one's mind, suggesting also how two people can be so different in age and still relate to how the other is feeling. It is heartfelt and very sentimental. The friendship between Daniels and Stone is sweet and quite emotionally driven. The roles of Reynolds and Culkin add another level to the movie's superiority because they change the film from being "your everyday drama among friends and family" to a individualistic adventure for one's identity in the cruel place that is the world. Overall, there are some flaws in this movie, but its strengths make it a good watch for a film no doubt made on a small budget. It is definitely a drama but when comedy is introduced, it generally hits the mark. A coming-of-middle-age comedy that chronicles the unlikely friendship between failed author Richard Dunne and a Long Island teen who teaches him a thing or two about growing up, all under the disapproving eye of his long-suffering wife and his imaginary Superhero friend.
½
I was looking forward to seeing this movie, but I was rather disappointed. For whatever reason, the last half hour of this movie was much more enthralling than the rest of the film. A quirky indie film that could have used a little more quirk, or substance, or something that I can't quite put my finger on. Randomly funny at times, and I thought Emma Stone's character had the most to offer throughout all of it.
Cynthia S.
Super Reviewer
Paper Man Quotes
There are no approved quotes yet for this movie.